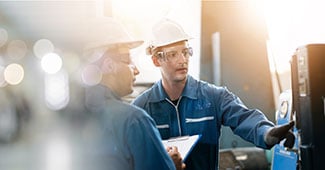 The manufacturing industry employs nearly 2 million Canadians, making it one of the largest sources of employment in the country. Manufacturing is a great career path for all kinds of people.
If you're looking for a manufacturing job in Ontario, Liberty Staffing can help you find the position that meets your exact needs! Contact us today to let us know what you're looking for, and we can start the process of matching you with a great employer.
In the meantime, let's take a look at what 2022 has in store for the manufacturing industry and how these trends will affect job seekers.
Labour Shortages Will Continue
Manufacturing employers are struggling with labour shortages. These shortages are caused by a number of issues, including the COVID-19 pandemic. Many older workers decided to retire early, and border closures resulted in fewer immigrant workers. With school closures, some working parents have had to leave the workforce. Companies that scaled back during the height of lockdowns are now struggling to scale back up.
This current challenge for employers can be to your advantage as a job seeker. It means that you have a lot more options when it comes to picking where to work. If you apply through a staffing agency, like Liberty Staffing, you'll likely find a great position quickly!
Manufacturing Workplaces Will Become Even More Technology Focused
Manufacturing continues to grow more and more dependent on technology. For example, robotics are becoming commonplace on the factory floor. Additionally, it isn't unusual for computer scientists to look to manufacturing work because of the amount of programming and computer engineering that goes into running the machines in our manufacturing plants.
Some workplaces will be converting to "smart factories", where modern smart technologies are implemented in a way that streamlines processes. Efficient and self-adaptive, smart factories are gaining popularity, even with small manufacturers. These and other manufacturers will invest in new machines that require special operational training for workers to operate.
When considering what skills they need for the job, manufacturing hopefuls should be enthusiastic about developing technology skills. Being able to work with computers, robotics, software, and hardware will make you a more desirable employee, and it will open more doors for promotion.
Manufacturing Companies Will Increase Their Focus on Sustainability
Sustainability is important to our collective interests, and manufacturers are doing what they can to become more environmentally responsible.
This can look like using more environmentally friendly materials, reducing overall waste, practicing energy conservation strategies, and eliminating pollution from their processes. If you have worked in manufacturing before and are continuing to work in the industry in 2022, you could end up seeing some pretty big changes in the day-to-day operations of your job.
Manufacturers Will Have to Deal with Supply Chain Interruptions
Supply chain interruptions aren't going away any time soon. Supply chain disruptions affect everyone, including consumers and manufacturers alike. Working in manufacturing in 2022 will mean adjusting to the shifts and changes that accompany these delays and disruptions.
Manufacturers will do their best to use creative problem solving to adapt to materials they can't access consistently. Some factories will even have to go so far as to change what they are manufacturing by determining alternative ways of using their existing machinery.
In order to create more consistency, manufacturers will likely utilize new logistics strategies, better analytics, AI technologies, and inventory management to adapt to the ongoing changes. The more nimble and flexible a manufacturer is, the easier it will be for the company to adjust to these demands.
Are You Ready to Work in a Great Industry That is Adapting to Global and Local Challenges?
Manufacturing is an industry full of great jobs! Even when the industry has to adapt to changes, these jobs are important, meaningful, and rewarding.
Plus, because manufacturing employers are in urgent need of workers, you have a lot of opportunities to find the perfect position for you. Working with Liberty Staffing will allow you to connect with a variety of manufacturing employers quickly. Instead of feeling like you have to take whatever position you can get, you will have plenty of options.
Contact Liberty Staffing today to get started! Manufacturing is changing in 2022, and there is a place for you at a great employer in Ontario.