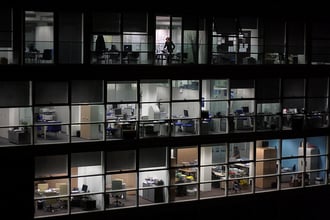 Hiring temp staff is ideal for companies that don't have the budget to hire permanent workers, that see large fluctuations in workloads, or that are often short-staffed. Busy seasons, employee emergencies, and vacations are all reasons why companies use temp workers. However, hiring temp staff also has a lot to do with keeping morale high. When your workers are stressed, overworked, working overtime, and constantly changing shifts, they'll start to feel demoralized, unhappy, and frustrated with their jobs.
This is especially true when employees are forced to change to the night shift due to your company being short-staffed. It's difficult to switch from days and afternoons to nights. It disturbs their schedules, messes up their sleep cycle, and can lead to a lot of emotional and physical problems for employees who can't adapt. That's why many companies would rather keep their staff members happy by keeping them on their regular shifts and hiring temp staff to take over the night shift.
But hiring temp staff for night shift is a little different from hiring for days. There are different factors to consider when finding the right person for the job who will be able to handle the late nights. Here are some of the things you need to consider when hiring temp staff for the night shift.
Job Posting
When hiring temp staff to work nights, you must be clear about your expectations from the beginning. Your job posting must state that it's a night shift job or you'll not only be wasting your time but the applicants' time as well. With family responsibilities, school, and time of day preferences, working nights isn't for everyone. By making it clear in your job posting that you're looking for a temp worker for specific night hours, you'll weed out a lot of the inappropriate candidates.
Work with a Staffing Agency
Because hiring for the night shift is a bit trickier than the rest of the hiring you do, you should consider working with a temp staffing agency. Staffing agencies have the expertise to spot candidates who would do well on these shifts and to weed out the ones who wouldn't work out in the long run.
For example, they'll be able to tell from the resumes they read whether or not candidates have had past experience successfully working night jobs. This is often stated in the job description. If they've been able to handle working nights before, then they'll be able to do it again. Night owls who hate waking up early will flock to job opportunities that allow them to sleep in and stay up all night, so this preference can be seen from the candidates' resumes.
Additionally, staffing agencies understand that when temps are searching for employment, they likely apply to a lot of different postings. They might not even fully read the job description before sending in a resume. For this reason, they know how important it is to reiterate the work hours during the interview, to ensure that whom you do end up hiring is in fact happy to work nights.
Consistency
It's a lot easier to work nights if you do so consistently. If you hire temp staff for night shift, keep them on that shift. Don't cycle between day, afternoon, and night hours or it will be difficult for them to get their sleep cycles back on track when it comes time to work nights again. If your temp workers aren't well rested before a night shift, this can lead to difficulty concentrating, low productivity, avoidable errors, and health and safety risks.
Find the Night Owls
Some people simply can't work nights due to family or personal responsibilities. Others just prefer to work days. But there are some temp workers out there who would love to stay up all night and have their days to themselves. It's up to you to find them. Once you do, you'll have a successful hire that will be happy to keep working nights.