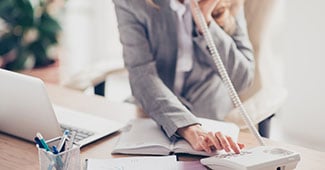 The pandemic has changed a lot of the day-to-day operations that administrative workers deal with. Still, a new sense of normalcy has emerged, and we can now recognize the workforce trends that will be sticking around for the months to come.
Liberty Staffing places administrative workers with companies that need great administrative support. If you're looking for a new position, reach out to Liberty Staffing today.
These are the five most important administrative workplace trends to know about as you start the new year.
Remote Work isn't Going Anywhere
Canada has experienced a major shift in workplace culture. Specifically, remote work is now a part of the landscape in almost every profession.
Although many administrative staffers continue to work in the physical office, some will certainly end up working from home, either all of the time or some of the time. Plenty of administrative tasks can be performed remotely, including answering calls, responding to emails, managing schedules, maintaining electronic records, and more.
Your Team Might be Hybrid
A hybrid work team is one in which the members are dispersed throughout multiple locations, with at least some of them in a shared office or workspace. The popularity of these teams is based on the fact that they allow companies to prevent COVID-19 exposures by staggering shifts and letting people stay home.
As a workplace administrator, it doesn't really matter whether you're at home or in the office: you are going to be working with people who are doing their jobs from somewhere other than the shared workplace.
This means that you will need to be flexible and adaptable. Administrative workers are constantly learning new technology skills and tools to adapt to these changes.
Soft Skills are Key
Speaking of adaptability, how are your soft skills?
Businesses want to see soft skills from people who are applying to their open positions. In fact, these are some of the most sought-after and in-demand worker attributes!
Soft skills are the things you do at work that fall outside of ordinary job tasks. They are not about what work tasks you perform, but rather, they are about how you perform those tasks. Some of the things that hiring managers want to see in applicants include dependability, strong communication skills, self-motivation and enthusiasm, and, of course, flexibility and adaptability.
Importantly, good communication is about more than just written communication. It is also about verbal communication, as well as non-verbal.
Developing your soft skills is a great way to make yourself appealing to your next prospective employer. Being able to communicate your soft skills through your resume or during your interview is a great strategy.
Administrative Workers Play an Important Role in Data Protection
One thing that administrative workers are adapting to is their role in data protection.
Data protection and security is one of the growing concerns of employers across all sectors and industries. It's not just customer data that needs to be protected from cybersecurity breaches. Business owners also have to figure out ways to protect their own workers' personal information.
Administrative workers are a big piece of the puzzle that is cybersecurity. They are often the ones who collect data and process electronic and paper forms that contain private information. If you work with the data of customers, patients, students, patrons, or workers, you can expect to be trained on data security procedures and best practices.
Staffing Agencies Remain a Great Option for Administrative Job Seekers
Here is something that hasn't changed: staffing agencies continue to be a valuable resource to job seekers who want to work in administrative positions.
A staffing agency works hard to find jobs that are a great fit. After all, they want employers to be happy with their new hires, and they want workers to feel satisfied in their new positions!
If you are looking for administrative work in 2022, check out Liberty Staffing. We place our job seekers in administrative positions all the time, whether they are starting out in administrative work for the first time or they are experienced administrative professionals who want a new opportunity.
Contact us at Liberty Staffing to learn more!