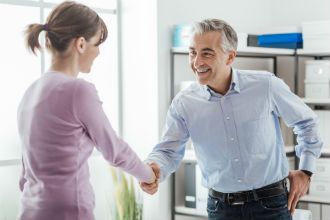 Now that the confetti's settled and the noisemakers have all been put away, many people are looking at how they can implement their new year's resolutions.
If you're like a number of people, you may have made some resolutions pertaining to your career. What do you hope to accomplish professionally in 2018? Maybe it's landing a new job or maybe you want to climb up the ladder and get promoted. Perhaps you want to see if you can gain experience in a new field.
Whatever your goals for 2018, the new year is a good time to start implementing them. If you've made considering a new career one of your goals, you couldn't have picked a better time. Here's why.
A Fresh Start
Many people see January and the start of the new year as an opportunity to start with a clean slate. You sit down and set goals for the next 12 months. You determine what you want to accomplish and how to accomplish those same goals.
January is a great month to do this because there's plenty of help available for this kind of goal-setting. Almost everyone's mind is on resolutions and creating achievable action plans for goals. If you're having trouble, you'll no doubt find career coaches offering discounts on their services or self-help books flooding the shelves of your local bookstore.
Preparing for Peak Seasonal Hiring
Depending on the industry you want to work in, January might be an optimal time to consider switching careers because it gives you ample time to prepare for peak hiring season.
Different industries have different busy seasons, but relatively few of them do most of their hiring in January or February. In most industries, you can expect to see hiring pick up in the early spring.
Many industries also hire in September and October, so you have time to prepare for the switch. Spruce up your resume, do a few practice interviews, and consider working with a staffing agency like Liberty Staffing Services.
Learn a New Skill
If a new job would require you to learn a new skill, thinking about making the switch in January can prepare you to learn the skill before you go on the job hunt.
If you know your target industry hires in May or September, you can spend the intervening months honing your skills. Maybe you can take some online courses or even sign up to complete a semester of continuing education to learn the basics.
You might even consider working with a recruiter to find some temporary positions. Temporary positions can help you gain valuable experience in an industry or new career area. If you know your industry won't be hiring full time until September, you have plenty of time to learn some new skills and gain some valuable experience.
Test the Waters
If you do decide to start your job hunt in January, you could get lucky. The job market is relatively slow for the first month of the year, with most people and industries waiting until the holidays are a faded memory to get back into high gear. You could be one of the few people looking for a job when the perfect role comes up.
Even if you don't land your dream job on the first go, starting your job hunt sooner rather than later can help you gain valuable insight into the job market. What's working on your resume? What interview skills need more practice?
Use this opportunity to fine tune your application and your interview before peak hiring season hits later in the year.
There are many good reasons to consider the start of a new year a good time to begin planning your career switch. These are just a few of them.