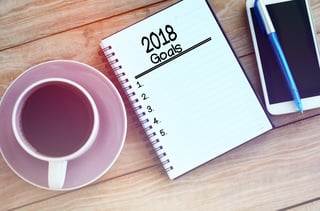 It's imperative that you have goals in your professional life, especially if you have held the same role for a long period of time. Setting goals and aiming to achieve them will help keep you inspired and motivated. Once successful, you will feel really good about yourself and how far you have come professionally.
Here are a few career resolutions you should be making this year.
1. Learn a New Skill
Have you been employed at the same company, in the same position, for a few years? Perhaps this year you could strive to learn a new skill. Working at the same job can seem a little mundane at times, but it doesn't have to be that way. You have the ability to learn something new everyday. In 1 year, you have 365 new opportunities. There is always room for improvement, and to learn something new. Go out of your way to learn a new skill. Be sure to learn something new each day and you will never be bored.
Or, if you are in the market for a new job, try temporary employment opportunities. Temporary work allows you to gain new skills at every job assignment you complete. One common misconception about temporary work is that you will be placed at a new job everyday. This is simply not true. Many of Liberty Staffing's temporary jobs are ongoing, and the assignments could go on for months.
2. Take a Course
Are you considering going back to school in 2018? This is a great idea, especially if you are considering changing careers, obtaining a new job, or moving up in a company. You will need to decide if you will be returning to school full time, or part time. For those who need to work while they study, for financial stability, there are many educational options. You can take an online course, or go to night school. The choice is yours.
If you are a current employee of Liberty Staffing, contact us if you are going to go back to school. We can help you find work that fits your school schedule.
3. Obtain a New Job
Perhaps you have been out of the workforce for awhile. 2018 is your year to obtain employment and return to the workforce. However, gaining a new job could take weeks, even months. Why job search on your own when a staffing agency can do it for you? Liberty Staffing connects great people with great jobs. All that you have to do is come in and register with our agency. It's free! Once you are registered with us, you will have access to an unlimited number of jobs. We will find a job that fits what you're looking for.
Start our application process online here.
4. Update Your Resume
It's a good idea to update your resume a minimum of once a year. January is a perfect time to update your resume. When updating your resume, make sure to include all the new skills you've acquired within the past year. Also, update your dates of employment, and your contact information (especially if it has changed).
5. Strive for a Promotion
While this resolution may take some time (possibly longer than a year), it's still important to set goals and strive to move up in the company that you are working for. Keep motivated and think of the prize. A promotion could mean anything from receiving a raise, gaining benefits, a new title, etc. There is always a great chance of a promotion if you keep working hard, and prove yourself to your manager/supervisor.
Need more career goals for 2018? We're here to help. Here's how you can set and achieve them. Liberty Staffing Services wishes you all the best this year!