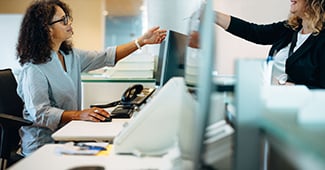 Looking for an administrative assistant? Liberty Staffing helps employers in Southern Ontario find great staff and manages staffing challenges. Employers often run into issues like understaffing, paying out too much overtime, or high employee turnover, but that's where Liberty Staffing comes in! Contact us today to find out how we can help.
Here are some reasons why working with Liberty Staffing to hire an administrative assistant will be good for your business in the long run:
1. Access to a Large Pool of Qualified Candidates
Staffing agencies have access to a large pool of qualified candidates actively seeking employment. This means that they can quickly match you with highly skilled candidates that meet your specific requirements.
2. Time and Cost Savings
Partnering with a staffing agency can save you time and money by taking on the burden of the hiring process. This includes sourcing, screening, and interviewing candidates, as well as conducting background checks and verifying references. By outsourcing these tasks, you can focus on other critical aspects of your business.
3. Flexible Staffing Solutions
Staffing agencies can provide flexible staffing solutions to meet your business needs. Whether you need a full time, part time, or temporary employee to cover a vacation or maternity leave, a staffing agency can provide the right staffing solution for your business. And a candidate and an employer need to have matching ideas about what flexible work looks like for the position in question.
4. Expertise and Industry Knowledge
Staffing agencies have extensive knowledge and expertise in the staffing industry, including the latest hiring trends and best practices. They can provide valuable insights and advice on the skills, experience, and qualifications required for a successful hire.
5. Reduced Risk of a Bad Hire
Making a bad hire can be costly and time-consuming. Staffing agencies can help mitigate this risk by thoroughly vetting candidates before presenting them to you. They can also provide guarantees and replacement policies if the hired candidate doesn't meet your expectations.
6. Increased Retention Rates
Staffing agencies often have a retention strategy in place to ensure that the candidate you hire stays with your organization long term. By providing ongoing training and support, as well as offering competitive salaries and benefits packages, staffing agencies can help increase employee retention rates.
7. Reduced Administrative Burden
Partnering with a staffing agency can significantly reduce your administrative burden, as they handle all payroll and benefits-related tasks, including tax withholdings, unemployment insurance, and workers' compensation.
8. Improved Candidate Fit
Staffing agencies have a thorough understanding of your business needs, culture, and work environment, allowing them to match you with candidates with the right personality, work style, and values to fit seamlessly into your organization. For example, people of Gen Z want different things from a workplace than Gen Y or Gen X, and a staffing agency is knowledgeable of those differences.
9. Faster Time to Hire
Staffing agencies have a streamlined hiring process that can significantly reduce the time it takes to fill a position. This can be especially beneficial if you have urgent hiring needs or need to fill a critical role quickly.
10. Enhanced Compliance and Legal Protection
Staffing agencies are well-versed in all employment laws and regulations and can ensure that your organization is compliant with all federal, state, and local labour laws. They can also provide legal protection in the event of any employment-related issues or disputes.
Liberty Staffing: Helping Southern Ontario's Businesses Thrive
We have been helping employers in Southern Ontario find quality candidates (like administrative assistants) and manage their staffing needs for more than twenty years. Reach out to us today to learn more about how we can help!