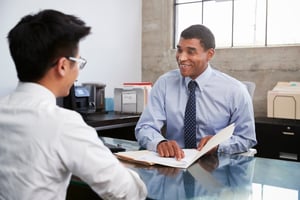 So you're on the lookout for your next great hire. You'll want to make sure that you make the right hiring choice the first go around. After all, a bad hiring decision will not only cost you financially, but you will lose time, and you'll have to do the recruitment process all over again.
Liberty Staffing Services can help you with your staffing needs. We are an independent staffing agency which provides flexible staffing solutions to businesses throughout Ontario. Whether you're in need of temporary warehouse workers, or permanent clerical staff, we can assist.
Follow these three steps in order to conduct a successful interview.
1. Make the Candidate Feel Comfortable
First, and foremost, you'll want to make the interview as comfortable as possible for the candidate. Many candidates get nervous during interviews. They'll try their best to think of answers that you want to hear. However, as an interviewer, you'll want to find out the true character of the person you're interviewing. The only way to do that is to make them as comfortable as possible.
Be open, kind, and respectful. Propose that your meeting is more of a get-together than an interview. Let the candidate know that you just want to get to know them. Ask them about their hobbies, and their interests, etc. When a candidate is comfortable, then you can really see if they will be the right fit for your open position.
2. Be Prepared
You'll want to be as prepared as possible for your meeting. That means reviewing the candidate's resume well before the interview, reviewing the role at hand, and noting down the questions you'd like to ask the candidate. You'll also want to have either your computer, or a notepad and paper handy, during your meeting. That way you can jot down any important notes you'd like to remember. It's great to keep notes about candidates during the recruitment process, especially if you are interviewing multiple professionals for the role.
3. Explain the Position at Hand in Detail
Go through the role at hand in detail with the candidate. Make sure that the candidate knows what they are getting into, if you decide to move forward with hiring them, and if they accept the position. Ask the interviewee if they have any questions regarding the job, and if they need any clarification.
The last thing that you want to have happen is to hire on someone, and they don't have a clear understanding of what the job entails. More often than not, a candidate will quit after a week because the job is not what they expected.
Need more interview tips? Ready to find your next great employee with Liberty Staffing? Contact us today! We can help you find quality talent quickly.