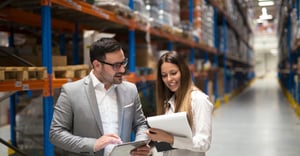 If you pay much attention to the news, chances are you've heard plenty of chatter about the "gig economy." Experts have commented on the shift from permanent, full time employment to temporary and contract jobs.
There are many forces behind this shift. One of them is worker attitudes. Many skilled workers today would rather take jobs on an assignment-by-assignment case. They move from contract to contract, working on projects that speak to their passions. It also gives them much more flexibility in deciding when they work, and who they work for.
The gig economy has plenty of benefits for employers as well. Temporary workforces can be used to tackle projects, on a short term or longer basis. You get flexibility in your workforce and your finances.
Download our whitepaper to see how we solve our clients' evolving staffing issues
As 2020 approaches, you may be wondering how you can leverage the gig economy and temporary workforces to your advantage. Use these strategies to build a better workforce, which will let you take advantage of all the benefits the gig economy has to offer.
1. Work With a Staffing Agency
If you're not sure where to start building a temporary workforce, then it's a good idea to team up with an agency like us, Liberty Staffing Services.
We have the experience you require when it comes to finding and hiring temporary workers. We can help you build a strategy, and search for candidates with the best cultural fit for your business.
We could also assist in temporary to permanent work arrangements. Whether you need one employee, or one hundred helping hands, we're here to assist you.
2. Hire for Cultural Fit
If you plan to build a temporary workforce, you need reliable people. You may not work together day in, day out, but you want to be able to call on them whenever you have an assignment.
In that sense, hiring for cultural fit is the smartest thing you can do. While temporary workers might be with you for a short time, good cultural fit ensures they'll give you their all while they are with you.
Workers who are a good fit for your company will also be more willing to come back the next time you need them.
3. Determine What You Need
As with your permanent workforce, your temporary workforce must have a hiring strategy behind it. Sit down and determine what your business needs.
If you have a special project, you may want to hire a temporary team with certain skill sets. When the project comes to an end, you can decide whether to keep these expert temporary workers on staff.
If you're thinking about taking the business in a new direction, hiring temporary staff could be an excellent way to test the waters. If the idea is successful, you can hire on some of the talented people on your temporary team as permanent workers.
If you have to manage the ebb and flow of demand more effectively, then temporary staffing could be the right solution yet again.
4. Develop Good Relationships With Temporary Workers
Another tip when you're building your temporary workforce is to develop good relations with the people on the temporary team. You never know when another project will come up, or when demand will pick up again.
If you're in a seasonal business, you may want to hire the same temporary workers season after season. Student workers are often available during the summer and the holidays, which might coincide with your busiest seasons.
A good relationship with temporary workers will also encourage them to recommend you as an employer to other people they know. By creating this referral network, you'll be sure to find more great candidates for every role you need to fill.
Ready to bring on some great temporary workers? Get started by contacting Liberty Staffing today. We'll help you find quality staff when you need them.