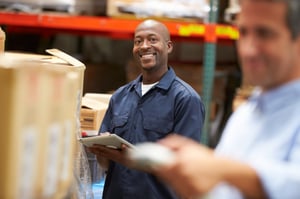 Have you been offered a temporary role with Liberty Staffing recently? Liberty Staffing Services has many great temporary general labour, warehouse, and office positions available in Ontario.
You may be on the fence about taking on a temporary role. You may also be scared off by the word "temporary". Don't be! Temporary roles come with many great advantages.
Here are a few significant reasons why you should take on a temporary job with us.
1. A Foot in the Door
Are you a recent graduate? Are you looking to return to the workforce after some time spent away? Or, is your heart set on working within a specific company? A temporary job is a great stepping stone, and will get your foot in the door.
Most temporary general labour/warehouse roles do not require a lot of previous experience, making applying easy for entry level candidates, or for those who are looking for a career change.
If you enjoy working at the temporary job, and you work hard, there's always potential to move up within the company.
2. Add to Your Resume
There's a common misconception that you shouldn't add temporary work experience to your resume, because an employer may think you bounce from one job to the next quickly. This is untrue. Temporary roles are great to add to your resume! Remember to explain on your resume that the roles were contract/temporary, and give timelines. Hiring managers would rather see temporary work experience (even if the role was for a short period), then gaps in your resume.
3. Earn Money
Last, but certainly not least, you will earn money when you work a temporary job. The salary for a temporary role depends on the requirements and skills needed for the position. For example, a temporary accounting position, or a welding job, requires a specific skill set, which in turns results in a higher pay rate.
Even if your heart is set on obtaining a permanent role, you can work a temporary job while you continue to look for permanent work. That way you won't have to worry about paying the bills. It could take you months to find a permanent job (especially if you don't partner with a staffing agency, like Liberty Staffing). So why not take on a temporary job?
Contact your nearest Liberty Staffing Services branch location today to learn about our current temporary jobs. We connect great people with great jobs!