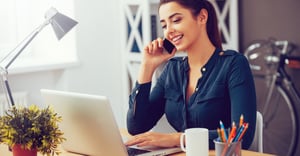 The job search has evolved over the last couple of decades. Today, for example, you may be asked for a digital portfolio. You also need keywords in your resume, and you can apply to jobs through social media.
Just as the way you apply to jobs has changed, so too have the rules around applications and interviews.
At Liberty Staffing, we want you to succeed professionally. How do you follow up after a job interview in 2020? We've created this guide to help you follow up the right way.
Yes, You Need to Follow Up After a Job Interview
First things first. You must follow up after the job interview. Most recruiters and hiring managers will consider it rather rude if you don't send a thank you note.
While email makes it easier to communicate, you may feel like it's not enough. On the flip side to this, you may feel like you don't want to "bother" the interviewer.
It's still a good idea to follow up. Whether you want the job or not, following up and saying thank you is polite. Another position could open up at this company. You don't want to burn any bridges.
Send an Email at the Appropriate Interval
Next, you should send your follow up during the appropriate timeframe. Sending a thank you within an hour is probably unexpected. Sending it after 48 hours is probably too little, too late.
In this note, thank your interviewer for taking the time to meet with you. You can emphasize how excited you are about this job prospect. Note what in the interview made you think you're a great fit.
If the interviewer hasn't already indicated when you can expect to hear about a decision, ask them for a timeframe. That way you know when it will be appropriate to follow up again.
Remember to remain professional. It's not usually appropriate to follow up with a message via social media, or a text. An email is more formal. If sending a message through LinkedIn is your only option though, it's better to follow up this way than not to say anything at all.
Following Up After the Stated Deadline
If your interviewer gives you a timeframe for a decision, then you know how long to wait. Keep in mind they're busy. They may not email you exactly two weeks after the interview, even if they say they should have a decision within two weeks.
If the stated timeframe passes without a note for a day or two, then it's appropriate to follow up. Be professional here as well. Remind them of the interview. Ask if a decision will be forthcoming soon.
If the interviewer hasn't given you a timeframe, then following up after about two weeks is usually a good rule of thumb.
What if They Don't Contact You?
Most interviewers will contact you with a decision one way or another. While it can be disappointing to hear you didn't get the job, receiving this email allows you to move on from this opportunity. You can refocus your job search.
What if the interviewer doesn't contact you? Some say they will only contact the successful candidate, although this situation is relatively rare. If the interviewer states this and gives you a timeframe, then you can follow up with them once the stated decision-making timeframe has passed. You can thank them again for the interview, congratulate the successful candidate, and then ask them to consider you for future open positions.
If the interviewer simply doesn't contact you, you may follow up after two weeks to ask if a decision has been made. If there's still no reply, you could follow up again after a month, but it's best to refocus your job search.
Looking for better interviewing experiences? Get in touch with Liberty Staffing today and find more job opportunities.