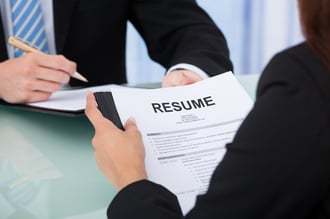 Hiring new employees comes with certain risks. If you're not a professional recruiter or don't have a great hiring process, it can be difficult to ensure that you are hiring the right candidate each and every time. It can be quite a hit-or-miss approach.
And if you realize that a new employee isn't the right fit after already extending a full time offer to hire him, your bad hiring decision can be costly to you down the road in recruiting and hiring time, advertising fees, skill testing fees, reduced productivity, and onboarding and training time. To reduce the risks and costs associated with hiring, you should consider hiring temp workers before hiring them on full time. Here's why.
1. Candidates Lie and Charm
Chances are you only hire a few times a year so you may not have the required experience to spot deception when you hear it. After all, hiring isn't your only responsibility. You might believe your candidates at face value. You might believe the exaggerations on their resumes—perhaps because you hope it's true. You also might fall for charm and charisma during the interview. You might love their personalities, so you hire them.
The unfortunate truth is a staggering number of candidates lie on their resumes and just as many charm during the interview. But in the end, they might not be able to actually do the job effectively or efficiently. And you end up finding out too late, after they've started working.
When you hire new employees as temp workers first, though, you can test out their skills ahead of time—before committing to hiring them on full time. Taking advantage of the temp-to-hire employment model can help you make sure that your new hires actually have the skills they outlined on their resumes. And you can make sure that you didn't get deceived by false smiles and come to regret it later on.
2. Cultural Fit Is Critical
You might not realize it, but your company has its own unique culture. The values and beliefs your organization holds, your work environment, your management style, your current employees' personality types, and the way you do things all come together to form your culture. And it's important to hire new employees who fit into this culture in order to see long-term success. Those who don't fit in will quickly leave to find a new working environment that suits them better.
If you don't know how to assess candidates for cultural fit during the screening process, then hiring them on as temp workers first can help you see first-hand whether or not they're the right fit for your company. You'll get to see how they handle their manager's style, how they get along with their new coworkers, how they behave in different work situations, and whether or not their beliefs, attitudes, and behaviours are congruent with those your company holds.
3. No Commitment
The ultimate reason to hire temp workers before hiring them on permanently full time is that there's absolutely no commitment. No matter why you decide the new hires are unfit to work at your company, you can let them go and receive replacements without having to pay severance, give notice of termination, or deal with any administrative hassles.
Just send them back to the temp staffing agency you've partnered with and move on to the new hire. There's no commitment of having to hire them permanently if you don't want to. But if you do choose to, then at least your hiring decision will be based on facts—you'll have already seen their skills, behaviours, and attitudes in action, so you'll have less chance of making a bad hiring decision at this point. This will significantly reduce your risks and costs of hiring.