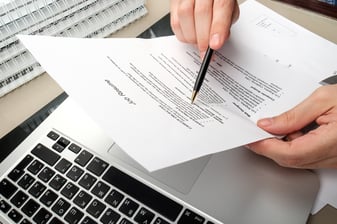 Are you looking to apply to a new job opportunity? Perhaps you're ready to apply to one of Liberty Staffing's job opportunities. We have lots of great jobs currently available!
Liberty Staffing Services is an award-winning, independent staffing agency with multiple branch locations across Ontario. First established in 1999, we've been helping local job seekers find employment for 24 years! We offer general labour, warehouse, manufacturing, factory, and office jobs in temporary, temporary to permanent, and permanent opportunities.
We would like to provide you with some resume writing tips. You should definitely consider these tips and take them into account when you're writing or updating your resume. These tips will be sure to help you land an interview!
1. Presentation/Layout of Your Resume
Take a look at how your resume is currently presented. Are the margins aligned? Are your bullet points consistent throughout your resume? Is your resume longer than 2 pages?
Make sure that your resume looks consistent and professional before you apply to any job opportunity. That means that your margins should align, your bullet points are consistent, and your resume is a maximum of 2 pages in length.
If your resume is inconsistent, or looks unprofessional/messy at first glance, employers/hiring managers are likely to toss your resume into the "no" pile. Attention to detail is important.
2. Discuss Your Accomplishments
Does your resume discuss your accomplishments? A lot of job seekers make the mistake of listing their job duties under their work experience, but do not go into detail about any of their accomplishments while at work.
Did you make the highest sales last quarter? Did you help to streamline shipping/receiving processes at your warehouse job? Go into detail about any accomplishments that you have, and put these on your resume. They could even be accomplishments you achieved while at school.
3. Proofread for Spelling Mistakes
Last, but certainly not least, proofread your resume for spelling mistakes before you apply to any job opportunity.
The last thing that you want to do is email a resume full of spelling mistakes. Hiring managers are likely to toss out resumes with spelling errors immediately.
It's a good idea to ask a friend or family member to proofread your resume. An extra set of eyes always helps.
Apply to Liberty Staffing Services Today!
Ready to apply to one of our job opportunities? Liberty Staffing Services is hiring! Apply with us today.
Start our online application (where you can upload your resume), and then contact your nearest Liberty Staffing branch location to schedule a phone or in-person interview.
Our recruiters would love to discuss your ideal job requirements so that we can match you with your dream job!