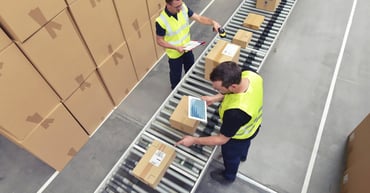 Have you thought about a career in packaging? Packagers are in high demand in warehouses right now. For some job seekers, it can be the perfect position. Almost every industry you can think of uses Packagers to ship and receive products, merchandise, equipment, tools, and more.
What is a Packager? Packagers help companies box what they're selling. They make sure that they are packaging the correct product based on order slips. They make the packaging attractive, and make sure it's effective at preserving and protecting the products. The employees are often also responsible for labelling the boxes so that they will be ready for shipment. Packagers often work in-house for a company, and they may work directly on the assembly line.
Packaging Specialists are generally responsible for ensuring that product is packaged correctly, and quickly, to meet order demands. They also perform quality control tests on the factory floor to ensure that products and packaging meet the standards of the company.
It's a great time to work in the packaging industry! Liberty Staffing has lots of great packaging jobs currently available. Here's our advice for finding packaging work now.
1. Evaluate Your Skills and Relevant Experience
You likely already have experience that translates well to packaging work. Perhaps you've worked on an assembly line, worked with machinery, or participated in quality control processes with a previous employer.
As you work on your resume, look for experiences that convert to the packaging industry. Focus on transferable skills, including soft skills.
2. Consider Additional Training
A lot of employers will hire packaging workers without specialized training. In fact, some of the companies that we work with are looking for Packagers with a highschool diploma. Other companies require a highschool diploma as well as at least one year of previous warehouse experience.
However, if you want your resume to stand out, consider some of the training options that are available. You don't necessarily have to get a degree in order to become a Packager. But, there are online courses that you can take, and certificates that you can obtain, which will set your resume apart from the crowd.
3. Work With a Reputable Job Placement Agency
Local staffing agencies can be an invaluable resource to you as you look for a new job. Staffing agencies, like Liberty Staffing Services, have connections with employers throughout the region. We have connections all over Ontario. When you work with an agency, the agency helps you stand out from the crowd. We vouch for you to help you rise to the top of the candidate pool.
It can be hard to find Packaging jobs that are available, as these positions are often filled quickly. Liberty Staffing can help you obtain a great packaging role in your area.
Ready to Find a Great Packaging Job?
If you're ready to find a great packaging role, Liberty Staffing is ready to help! Contact us today to learn how we can help you take the next steps in your career. Whether you're looking to get your first job in the packaging industry, or you want to make the switch to a new employer, we're ready to make that happen!