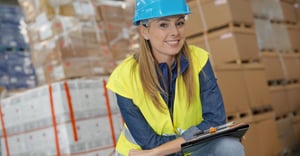 Spring is right around the corner, and for many people, that means looking for new jobs. With the weather getting warmer, many businesses have a need for seasonal workers to complete a wide variety of tasks. Many of these in-demand positions come with the title of General Labourer. In these positions, you may be hired to help primarily with one seasonal task, but you could also take on other responsibilities around the workplace.
Looking for a job? Let Liberty Staffing connect you to the jobs you want. Apply today!
Just what kind of tasks will General Labourers tackle this spring? You might consider a job that includes any one of these roles. It could be the perfect fit for you.
1. Some Assembly Required
Think about the items that you take out of storage when the snow melts and the warm weather rolls around. You might haul out your patio furniture, your BBQ, or other items that had to be stored during the winter weather.
You're not the only one person who placed these items into storage. For many businesses, these items went into warehouses in October. Now, as the weather warms up, it's time to bring them back out.
Some of these items might require assembly before they're shipped off to final destinations. Getting them put together and out the door efficiently to meet client needs is a must. That's why they need all hands on deck in the spring and summer months.
Others could be assembling new items that will make their way to showroom floors or even, eventually, into someone's backyard.
2. Picking and Packing as Orders Roll in
After the December holidays, many businesses see a dip in the number of orders. This is especially true for retail stores, as consumer spending trends lower in the winter months. Spending often slows across industries, though, as demand for construction, production of retail items, and more fall off.
With the warm weather, sales generally picks up again across several industries. Many warehouses, as a result, are suddenly swamped with orders, and they need help making sure their orders are picked and packed in a timely manner.
General Labourers may be hired to help fill the gaps. You could spend most of your time picking and packing orders, especially for spring and summer items that are in-demand. You may be asked to prepare orders to ship out, assisting the Order Pickers and Order Packers. You might be assigned other responsibilities as well.
3. Demand for Food Picks up
Picnics, BBQs, pool parties, and graduation celebrations are hallmarks of the spring and summer season. As people come out of hibernation, they tend to be more willing to celebrate. And where there's celebration, there's food.
The demand for many seasonal food items, like fruit or meat for the grill, hits its peak in the warmer months. That means food processors need to be ready. They will have to meet demand and ensure these popular items stay on the shelves at local supermarkets. They might also be supplying local caterers, who are serving weddings, or backyard BBQ celebrations. Restaurants also place more orders in the summertime.
Food processing and packaging businesses need all the helping hands they can get at this time of year. This can be a great entry level job for someone looking at the food industry, or it could be a good job for a student, or someone between jobs.
4. Wrapping it All Up
Finally, there are plenty of opportunities for those who want to be involved in the packaging industry. Whether it's food packaging, or wrapping up summer items, General Labourers are a key part of the packaging process for many businesses.
You may even begin to process fall items, such as back-to-school snacks, as businesses get ready for a busy fall season.
Interested in becoming a General Labourer with Liberty Staffing? Contact your nearest branch location today.