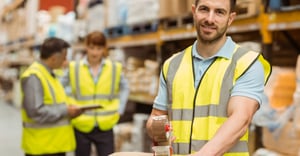 If you're planning on looking for a new job this year, you're likely considering your options. Maybe you need something to fill the gap between your last job, and your next career move. Maybe you're looking to gain experience in a particular industry or decide on a new career path.
No matter your situation, you might want to consider a job in general labour. At Liberty Staffing Services, we offer lots of great general labour positions. There are plenty of advantages to taking on a general labour position.
Here are just a few reasons to consider general labour for your next role.
1. General Labour is Always Changing
One of the biggest advantages of being a General Labourer is the fact that the role can vary from worksite to worksite. General labour is a broad term that encompasses a lot of different positions. Depending on the role and what's in the scope of the job description, you may perform different tasks weekly.
This creates an ever-changing environment, which means you'll never get bored. You'll be engaged in plenty of different tasks, often across departments. You'll have many opportunities to exercise different skills, and even learn new ones.
One thing is for sure. General labour is anything but boring.
2. Your Skills Have Portability
Another great reason to think about a general labour role is that you'll have plenty of choice when it comes to where you work. Most workplaces employ General Labourers. You may find the skills you've developed at one site will help you gain employment at another location, where you can continue honing your existing skills, and develop new ones.
Many of the basic skills you'll learn, such as problem solving, critical thinking, and communication, will serve you well in almost any other position too. Whether it's another general labour role, or another career entirely, you'll work on skills that will take you places.
3. Stability in the Job Market
As we said, not every employer requires general labour for the same reasons. The fact remains, though, that almost every business needs some kind of general labour, and that reality isn't changing any time soon.
That's one reason a role as a General Labourer could make perfect sense. Once you have some experience in this arena, your skills and experience will almost always be in demand. You can be sure these jobs won't be disappearing from the market any time soon, so you know you'll always have opportunities.
4. You Can Gain Experience
Another reason to consider a job as a General Labourer is because it can help you gain both experience and expertise. If this is one of your first jobs, you may be interested in developing foundational skills. If a general labour role is just one stepping stone on your larger career path, it still offers invaluable experience.
You might be able to gain experience working in a variety of different work environments, for example. As a General Labourer, you may be exposed to a variety of different tasks. You could end up working on a few different teams, and in different departments.
These experiences give you more insight into how different businesses operate. You might also discover more about each unique work environment.
5. Stability in an Unstable World
Many general labour positions are designed as full time jobs, and temporary opportunities. An employer might undertake a new project that requires more team members, or they have seasonal tasks for the general labour team.
Even if a particular role is temporary, you'll be building the skills toward landing more general labour opportunities.
If you think general labour might be a good fit for you, get in touch with us at Liberty Staffing Services today. We can help you find the jobs that best fit your work needs.