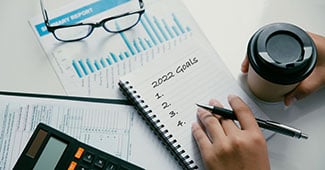 As the year draws to a close, people all over the world are considering their resolutions for the next year. It's a great time to take stock of what you have accomplished and what is next in your personal and professional life.
If one of your professional goals is to find a new job in the new year, Liberty Staffing can help! Contact us today to take the next steps in your professional career.
What kinds of goals should you set now in order to be prepared for what the next year brings? Let's take a look at four of the professional goals you should be setting for yourself before the end of the calendar year.
1. Learn a New Skill
Consistently learning new skills is good for so many reasons! It not only helps your brain stay healthy and strong, but it also gives you opportunities for professional development. When you learn a new skill, you increase your value in the workplace and make yourself more marketable to a new employer. Skill building can also lead to promotions, pay raises, or increased opportunities on the job.
New skills can include software tools, hardware, machinery, language skills, and even soft skills like communication, flexibility, and problem-solving.
2. Develop a New Good Habit
Workplace habits are often developed accidentally, without any careful intention or consideration. Even if you don't have any bad habits to break, you can probably find a new habit to develop during the next year.
Habit building is based on repetition, so consider this: choose a new habit and practice it every day at work for 30 days. At the end of that time frame, look back over the past month and decide if it is worth it to consider this change.
New habits could be things like showing up to work early every day, listening to a mindfulness podcast on your way to work, tracking your schedule every day to learn more about how you spend your time, or working hard to meet every deadline you are given.
Managers who spot these new habits will be excited to see your development as an employee, which leads to new opportunities.
3. Make a New Resume
You may not be looking for a new job right now, but it is still a good idea to have a current and detailed resume ready to review and use if you need one quickly.
Check out our expert advice on resume writing and building to learn more about ways that you can keep your resume up-to-date and helpful. If you're new to the workforce, you will want to make sure your resume includes all of your relevant work experience, as well as extracurriculars, academics, volunteer work, and community service.
Don't forget that resume building is about communicating to potential employers who you are as a person and why you are a great match for the job. Even if you have a great resume on hand, you will still need to update it and review it before sending it out to any new prospective employers.
4. Don't Forget to Network
Networking is about making connections with current and potential colleagues and employers alike. Sometimes when you are in a job, it can be easy to ignore the fact that you might be on the job market again someday.
Don't forget to take time to network. Be friendly with colleagues and other professionals you meet, follow up with people you have met through your job by sending an email (or text when it is appropriate), and attend networking events whenever you can. Networking enriches your professional life and allows you to make smoother career transitions when it is time to make a change.
Work with a Staffing Agency to Take the Next Steps
There are so many great reasons to apply to a staffing agency! A staffing agency will learn about your job requirements, conduct detailed job searches on your behalf, and find work for you quickly and efficiently.
Liberty Staffing Services helps countless people every year find new employment that is both fulfilling and financially competitive. Contact us today to learn more about how we can help you take the next steps in your professional life!