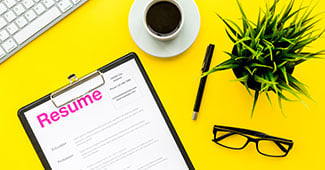 What are the secrets to putting together a great resumé? If it has been awhile since you last assembled a resumé, you might be a little intimidated by the process. We have good news, though: with the right support, anyone can write a standout resumé!
When you're ready to start applying for jobs, a high-quality, experienced staffing agency can help you find the right position. Contact Liberty Staffing today to get started.
Follow these tips to build a standout resumé that will set you apart from the other candidates.
1. The Purpose of Your Resumé is to Help You Get an Interview
Keep this important information in mind: the goal of writing a great resumé is to earn yourself an interview. You've probably heard the advice that a resumé is supposed to be pretty short. Unless you have more than ten years of work experience, one page is usually enough.
The concise nature of a resumé is because it is not supposed to tell the hiring manager everything they need to know. You will fill in the gaps when you go in for your interview. But without a strong resumé, you won't get that chance. That's why your resumé and the interview are so important.
2. The Pandemic Has Changed Resumé Writing
Hiring has changed because of COVID-19, and that means that resumé writing has needed to change, too.
First, it's more likely that you will have a gap in your employment history, especially because of furloughs and layoffs. Don't be too worried about what that employment gap looks like. The standard advice used to be that you need to avoid or explain any periods without employment, but today's employers are accustomed to seeing that kind of job loss during the pandemic.
It doesn't automatically reflect badly on you to have gone without work during the pandemic, especially in industries that were hit hard.
Next, it is now important to highlight your ability to use technology to adjust to being a remote worker or being a part of a hybrid workforce.
3. Modern Resumés Benefit From Having a Title
Many job seekers add a title to their resumé. That's because it makes it easier for overwhelmed employers and hiring managers to recognize the candidates they want to interview.
If you just put your name at the top of your resumé, that doesn't mean a lot to a prospective employer who doesn't know you. However, a helpful title can make you more memorable: Experienced Virtual Administrative Assistant, Outstanding Customer Service Representative, Professional General Labourer.
4. Update Your LinkedIn
Don't forget that your LinkedIn account should match your resumé. That way, when a prospective employer is interested in learning more about you, they find that your LinkedIn profile is updated and current.
You don't want them to experience any frustration when they look at your professional online social presence. If they encounter an outdated profile, they may decide that you are not very serious about your job search.
5. Avoid Common Resumé Mistakes
Some resumé errors will earn immediate skepticism from the manager who is looking at job applicants.
Misspellings (especially of company names, individuals, and programs) are a big red flag. It isn't that your employer needs you to be perfect at spelling, but rather, they want to be confident that you know how to pay attention to detail and fix errors when they exist.
Another big issue is sending out a generic resumé, rather than tailoring it to the position you're applying for. We recommend making it clear to your prospective employer that you want the job they are hiring for, not just any job that is available.
Finally, double and triple-check your contact information! The last thing you want to do is impress the hiring manager and then leave them in a position where they can't reach out to you easily and quickly.
Working With a Staffing Agency Can Help You Stand Out
Staffing agencies help workers find jobs, and they help employers find great new team members.
Liberty Staffing can make your job search faster and more successful! Contact us today so that we can help you find your next great career.