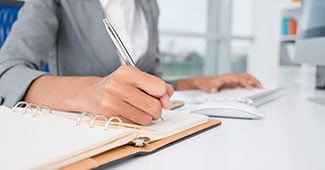 Getting your first job as an administrative professional is an exciting next step in your career. At Liberty Staffing, we help companies find great administrative candidates. That means we have a lot of knowledge about what these companies are looking for when they hire someone new to join their administrative team.
If you're looking for an administrative professional job, reach out to Liberty Staffing today! We can connect you with a great administrative job.
One of the things that employers want to see in their administrative professional is someone who is well organized. Here are some useful pieces of advice about how to start out on the right foot when it comes to getting organized and impressing your new employer.
Organize Your Workspace
Your workspace is where you are going to spend most of your time as an administrative professional. When you put a lot of thought into how you set up and organize your desk, and the surrounding area, the big payoff is a sense of order and structure.
Some of the things to take into consideration include: configuring your monitor and computer placement, deciding on phone placement, having a physical inbox and outbox, choosing a good location for your garbage and recycling bins, and setting up ergonomic seating arrangements.
You will also want to put thought into how you arrange any paper files, job-specific equipment, and the cords that run to all of your devices. It can be distracting to look at a bunch of cords and wires running everywhere, so be sure to take into consideration where the outlets are while you're setting up your personal computer and technology.
Be Cooperative About Shared Spaces
It is very likely that you will share space with other workers. Administrative professionals usually share a space/office with others. Even if you are the only one who works at your desk, it is very likely that your desk is out in the open where you are approachable and visible to a lot of people.
When you're in shared spaces, be cooperative with others. Staying organized and controlling clutter in your work area will prevent others from being frustrated by visual clutter or an unprofessional mess.
If you share a workspace with someone else, you will need to compromise on a lot of things, including organization. Because you're new, you may not be able to come in and get your way on everything, but don't hesitate to communicate with your new coworkers if something is just not working for you.
Clean Up at the End of Each Day
At the end of every workday, survey your workstation and decide what needs to be put away. Are there any documents that should be locked up before you leave? Is your computer shut down or locked? Have you cleared your desk of trash, clutter, and notes?
Don't let the work pile up on you! The key to administrative professional organization is staying on top of tasks and ensuring that the office runs smoothly. Taking stock of things at the end of every day is a great way to prevent tasks from becoming unwieldy or overwhelming.
Develop New Skills as You Go
Organized administrative professionals feel more in control of their workday. When you exhibit strong organizational skills, you can free up time to develop new skills.
Some of the skills that you can work on are: upgrading your Microsoft Office skills, learning about enterprise resource planning, improving your understanding of database management, and increasing your general HR knowledge.
Plus, each of these new skills can contribute to an even more structured and organized work environment! When you become an expert in Office, your electronic organization becomes far more cohesive and user-friendly. Enterprise resource planning (ERP) skills are in higher demand, and database management means that you can quickly interact with databases to improve the experiences of your customers and coworkers alike.
Administrative Professional Work Can be a Great Career
If you like the idea of managing a workplace, utilizing your organization skills, and earning a paycheck by being part of a great team, administrative professional work may be the perfect career for you.
Liberty Staffing places administrative workers in numerous industries. Whether you are brand new to the work or an established professional with lots of experience, we are here to help you take those next steps.
Contact Liberty Staffing today to get connected with our recruiting team! Employers are looking for great team members like you, and we can make sure that they understand why you are the best person to add to their team.