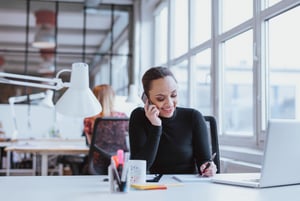 Checking references is usually the second to last step in the hiring process. You've conducted interviews, and you've narrowed your list down to maybe one or two candidates. All that's left is extending a job offer to the person you feel best matches your ideal candidate.
You may wonder why you even need to check references. After all, it can be difficult to get in touch with some references. It could also take time to get the information you need from the reference.
Checking references, though, allows you to get further feedback on the candidate from a third party. The references should know what it was like to work with this person, so they can provide more insight and help you make the best hiring decision. They may also be able to help you detect when a candidate has been dishonest about their work history, or tried to make themselves sound like a better fit than they are.
Download our whitepaper to see how we solve our clients' evolving staffing issues
Reference checking is thus important. How can you make this vital task more efficient?
1. Ask Everyone for the Same Number of References
What do you do if a candidate supplies a list of five references? You planned to contact just one or two, but it might be tempting to check all of the references.
At the opposite end of the scale, you may have a candidate who submits only one reference contact. What happens if you can't get in touch with this reference?
You can avoid this situation by asking all candidates for the same number of references. If you plan to contact two people for each candidate you consider extending a job offer to, you can limit the amount of time you spend on reference checks.
2. Consider an Electronic Survey
Reference checks are usually done over the phone, because it's easier to get naturalistic feedback. While wording is important, hearing a reference's tone of voice is also important.
There's some merit to considering electronic methods of reference checking, like a survey. The survey standardizes both the question format, and the answers. Since the answers are in written form, they can be scanned by a machine, and a report can be generated. This could save you time and energy.
3. Establish a Standard Set of Questions
If you do want to contact people by phone, it helps to have a standardized format for your reference check. Ask every reference the same questions. This should help you get similar answers, which you can then compare.
Finally, make sure your questions are thought provoking. Yes or no answers won't give you the insights you need.
4. Work with Liberty Staffing
Sometimes, you'll be hiring for multiple positions at the same time. That could mean you'll need to check two or three references for two candidates or more candidates for each open role. If you assume each check will take about half an hour, reference checking could eat up a good portion of your time.
That's if everything goes well too. If the candidate hasn't given correct information, it might be difficult to get in touch with a reference.
If you partner with Liberty Staffing, you can always call on our expert recruiters to help. We can conduct and complete reference checks on your behalf.
Partner with Liberty Staffing today! We can help you start making great hires in no time.
3.