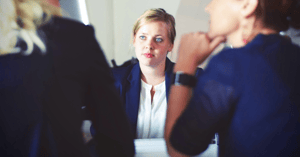 As a hiring manager, you probably see dozens, maybe hundreds, of applications for your job postings. If you've written a good job description, then most of those applications should be from talented professionals.
The interview is your chance to discover what each candidate is truly like. It's also an opportunity to test if they're qualified for the role. Being qualified is often more than having the right certificate or relevant work experience. It's also about having the right skills and attitudes.
At Liberty Staffing, we partner with companies to help with their staffing needs. We can help you make good hiring decisions.
Download our whitepaper to see how we solve our clients' evolving staffing issues
We would like to provide you with some interview questions to ask the next time you have a job candidate in the hot seat. These questions will help you determine if the person is suited for the role you're offering.
1. Ask Them about a Challenging Situation
This question is an interview staple, and for good reason. It can tell an interviewer so much about a candidate, such as how they work under pressure, or how they handle conflict. It may even give insight into areas where the candidate could need improvement.
It could also tell you if they'd be the right fit for this role. If someone is interviewing for a supervisory position, and tells you they shy away from conflict, they may not be qualified for the demands of the job.
2. Inquire about Motivation
People are always motivated by something. For many job candidates, the motivation is compensation. If this is the only reason someone wants the job on offer though, then almost any job would do.
By contrast, someone motivated by passion for the industry, or a challenging role that will force them to learn new skills, is more likely to thrive in the position you're offering.
How will candidates demonstrate their motivation? They may talk about their passion, or early volunteer experiences. They might discuss their curiosity, or educational experiences, or even someone who inspires their career. These motives provide a much better basis for accepting a job than concerns about compensation.
3. Ask about Weaknesses and Failures
A good candidate is aware of their weaknesses, and they can tell you how they plan to address those shortcomings. They should also be able to tell you about failures, and what those experiences have taught them.
The answers to these sorts of interview questions provide insight into how the candidate will deal with challenging situations. If they say they've never failed, or that they don't have any weaknesses, they may not be able to admit their mistakes. They won't be ready to learn, which is a prerequisite for every job.
4. Ask What They Like Least about Their Job
Everyone has aspects of their job that they love. Then there are aspects that they like the least. Asking a candidate about their least favourite tasks at their current job can offer insight into their mindset and motivation.
A candidate who says there's nothing they dislike probably isn't telling the truth. An interviewee who indicates they dislike being challenged probably isn't suited for a role dealing with tight deadlines, problems that require plenty of critical thinking, or difficult situations with demanding customers.
Focus also on the environment. If the candidate says they dislike a busy office, they might not be a good fit in your bustling work environment. If they prefer working on their own, and your team is almost always tackling tasks together, then this candidate might not be who you're looking for.
5. Ask about Their Qualifications
Our final tip for interviewers is to ensure they question candidates about their qualifications. Some candidates may be tempted to embellish their resume, so asking them to describe their work experience, skills, and education can help you determine the truth.
Be sure to inquire twice over, so you can detect any discrepancies in the responses.
If you're looking for more help with finding the right candidates, get in touch with Liberty Staffing Services today. Finding top-notch talent for your business is our top priority.