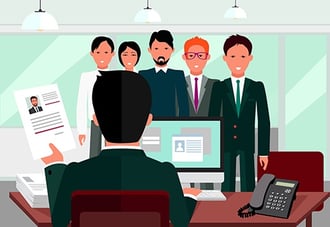 There are many common misconceptions regarding temporary staffing agencies. Common misconceptions include, but are not limited to: temp agencies not caring about their employees, placing employees at new job locations daily, taking a cut from employees' paycheques, only offering low paying jobs, and misunderstanding applicants' job desires. These are false claims.
Common misconceptions like these often deter people from registering with a temporary staffing agency. Liberty Staffing Services is a staffing agency which offers temporary, temporary to permanent, and permanent employment opportunities to applicants. We would like to provide you with some facts to help clear things up. Here are five common misconceptions about temp staffing agencies brought to light.
1. Temp Agencies Don't Care About Their Employees
Of course we care! At Liberty Staffing Services, our employees are very important to us. We wish you nothing but happiness and success in life. Our goal is to find the right job for you. When you succeed at a job placement, our agency succeeds in result.
2. Temp Agencies Will Place You Somewhere New Everyday
This is not true. Don't let the word "temporary" fool you. Temporary could mean anything from a daily job assignment to a monthly opportunity. Sometimes temp jobs could go on for several months. It all depends on what the company requires.
Liberty Staffing Services also provides temporary to permanent employment opportunities. This means that employees will be able to showcase their skills and work ethic in a temporary job setting with the potential of the company hiring them on permanently.
3. Temp Agencies Will Take a Cut from Your Paycheque
Reputable staffing agencies will not take a cut from your paycheque. Liberty Staffing Services does not take a cut from an employee's paycheque. You've worked hard for that money and it's all yours.
4. Temp Agencies Only Offer Low Paying Jobs
Liberty Staffing Services has many different temporary jobs available with varying wages. For further information regarding our job opportunities, contact Liberty Staffing today!
5. Temp Agencies Won't Understand What You're Looking For
When you register with Liberty Staffing Services, we ask our applicants a series of questions. These questions are designed so that we can get a better understanding of what type of job you are looking for. The more we know about you, the better. We want to make sure that you enjoy your experience working with us, and we hope to find the right job for you.
Liberty Staffing has been in business since 1999. We have over fifteen years of experience placing people out to work. Our staffing representatives are professional, efficient, and friendly.
Register with Liberty Staffing Services today! We offer temporary, temporary to permanent, and permanent opportunities to our applicants. The registration process is free, fast to complete, and no appointment is necessary. Come in to register anytime between the hours of 8am and 5pm, Monday to Friday.