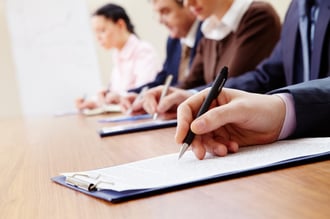 Searching for employment can often be frustrating, stressful, and time consuming. Sometimes it can take months to find work. Looking for employment is a job in itself. Working with an employment agency can make your job search a lot easier.
Liberty Staffing Services is an employment agency which staffs office, warehouse, and industrial businesses in temporary, temporary to permanent, and permanent opportunities.
If you are looking for work, we encourage you to register with our agency. Here's what you can expect when you register with Liberty Staffing Services.
Friendly and Professional Staff
When you first walk in the door of our office to register, you will be greeted by one of our friendly staffing representatives. We will happily go over the application process with you so that you can comfortably complete the forms. Any questions that you have can be answered by our friendly and professional staff.
Quick and Easy Registration Process
Liberty Staffing's registration process is quick and easy to complete. Registration typically takes about an hour to an hour and a half. To get started, you will need a piece of photo identification, proof of your social insurance number, and resume. Registration is completely free.
Applying to jobs takes time. Register with Liberty Staffing Services today and you will have immediate access to an unlimited number of jobs.
A Brief Interview
Liberty Staffing Services strives to make both our employees and clients happy. To achieve this, we take the time to get to know our applicants. We are interested to know what type of work you are looking for, your ideal pay rate, and where you are willing to travel for work.
We will also ask questions regarding your previous work history and any skills/certificates that you have acquired. But don't worry, if you are new to the workforce, that's okay too. Some of our jobs are entry level positions.
It's our job to find the right fit for you. When you succeed at a work placement, Liberty Staffing also succeeds. It's in our best interest to get to know you.
The Possibility of Attaining a Great Job!
Once we have taken the time to get to know you, you have a greater chance of attaining a new job. When you've successfully completed the registration process, and you are in our database, we can begin to call and offer you work. In some situations, we've had the ability to offer jobs to our applicants right on the spot, after they have successfully registered with us.
Register with Liberty Staffing Services today! By registering with us, you increase your chances of landing a great job.
To register with Liberty Staffing, please visit an office location most convenient for you. No appointment is necessary. Registration takes place anytime Monday to Friday, between the hours of 8am and 3pm.
**Referral Bonus Reward**
Did you know that Liberty Staffing Services offers a referral bonus reward? Refer a friend to our business and you could be eligible to receive a $100 bonus! Contact us today for more information.