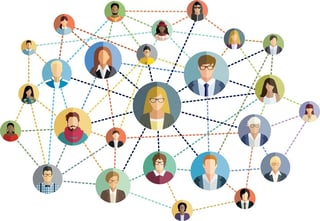 Networking has changed a lot over the years. Back in the day, who you knew was very important in obtaining employment. With advancement in technology, networking has now become a world-wide opportunity. If you're looking for work, here are five different ways that you can network, which includes both traditional and modern strategies.
1. Ask Family and Friends
Probably the easiest way to network is to ask family and friends about any possible job opportunities. After all, you never know who may be looking to hire.
2. Attend Job Fairs
A great way to get your name out there is to attend job fairs in your area. When you attend any job fairs, make sure to dress professionally, bring multiple copies of your resume (and business cards, if possible).
3. Search on Company Websites
More traditionally, you can look on a company's website to see if they are hiring. Many companies have their internal positions posted on their website. You can send your resume to the advertisement on the site, or call them directly (if given permission on the job advertisement).
4. Make Professional Connections on Social Media
Currently, LinkedIn is the top social media platform used for creating professional connections. If you're looking for a new career, LinkedIn is a great way to search and apply to job opportunities, build an online version of your resume, brand yourself, and connect with hiring managers.
5. Apply to an Agency
Applying to an agency is also a great way to network and make professional connections. Agencies have access to multiple hidden opportunities, and all that you have to do is apply. It's as simple as that! Reputable agencies will not take a cut from your pay, nor charge you to register.
Apply to Liberty Staffing today! We offer office, warehouse, and industrial jobs in temporary and permanent opportunities. We have the ability to send off your resume to multiple employers.