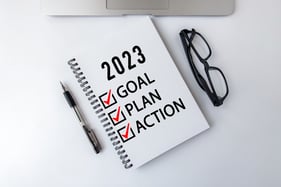 2023 is here! That means people all over the world are making resolutions, and are planning to stick to those resolutions throughout the year.
It's the perfect time to take stock of what you have accomplished and what is next in your personal and professional life this year.
What are some of your professional goals for this year?
If you haven't already made any professional goals, we think you should. Here are 5 professional goals to set and carry out for 2023.
1. Learn a New Skill
Consistently learning new skills is good for so many reasons. It not only helps your brain stay healthy and strong, but it also gives you opportunities for professional development. When you learn a new skill, you increase your value in the workplace and make yourself more marketable to an employer.
Skill building can also lead to promotions, pay raises, or increased opportunities on the job.
New skills can include software tools, hardware, machinery, language skills, and even soft skills like communication, flexibility, and problem solving.
2. Update Your Resume or Make a New Resume
It's always a good idea to have an updated resume handy, in case a great new job becomes available so that you can apply right away. January is the perfect time to update your resume.
Or you can create a new resume entirely. If you're new to the workforce, you'll have to make a new resume.
Check out our expert advice on resume writing and building to learn more about ways that you can keep your resume up-to-date and helpful. If you're new to the workforce, you will want to make sure your resume includes all of your relevant work experience, as well as extracurriculars, academics, volunteer work, and community service.
3. Network
Networking is about making connections with current and potential colleagues and employers alike.
Be friendly with colleagues and other professionals you meet, follow up with people you have met through your job by sending an email (or text when it is appropriate), and attend networking events whenever you can. Networking enriches your professional life and allows you to make smoother career transitions when it is time to make a change.
4. Find a New Job
January is the perfect time to find a new job, or make a career change.
If you're looking for a new job, check out Liberty Staffing's job board and apply with us today! We have lots of great job opportunities currently available.
5. Work With a Staffing Agency
Liberty Staffing Services is an independent staffing agency with multiple branch locations across Ontario. We offer general labour, warehouse, industrial, factory, and office jobs in temporary, temporary to permanent, and permanent opportunities.
We take the time to get to know you and your ideal job requirements to ensure that we find the right job for you. Your success is our success!
Contact us today to learn more about how we can help you take the next steps in your professional life!