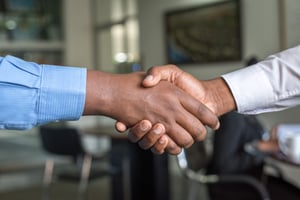 The interview process is as much as about the employer getting to know you, as you getting to know the employer/company. During your interview, and especially at the end of the interview, you are able to ask any questions that you have about the position/company. You'll want to make sure you know all the facts before accepting a position.
Liberty Staffing is a staffing agency with multiple locations across Ontario. We offer general labour, warehouse, industrial, and office positions in temporary, temporary to permanent, and permanent opportunities.
At Liberty Staffing, we want you to succeed professionally. Some of the positions that we offer require interviewing with the client. If we've sent your resume to a client company, and they want to interview you, congratulations! That's great. Here are some questions that you should ask before accepting a job opportunity. After all, you've got to make sure that this new job is right for you.
1. Confirm the Work Hours and Pay
Our recruiting experts will go over the work schedule and pay of the position with you before you head into a job interview. However, it's always good to confirm the work hours and pay of the role with the hiring manager as well, during the interview process.
You'll want to make sure that you are comfortable with the work schedule, and the pay of the position, before you accept the role.
2. Priorities of the Job
Most hiring managers will go over the responsibilities of the position during the interview process, but it's always good to dive in deeper and ask about the priorities of the job. What are the main priorities and objectives within this role? What should you be focusing on first if you accept the position?
You can also contact Liberty Staffing to discuss the responsibilities and priorities of the role. The clearer the responsibilities are, the better to make an informed decision, and the better your chances of succeeding in the role overall.
3. Is Overtime Involved?
Normally all job advertisements state the working hours of the role. However, it's good to inquire about overtime. Is there a possibility for overtime in this role? Will you be required to work overtime?
Some candidates look forward to overtime to earn some extra money, while others prefer to stick to set scheduled working hours. Both views regarding overtime are fine. Be sure to ask the employer about overtime during your interview, and let Liberty Staffing know your preferences.
4. Discuss Potential Meetings
Does this new job require you to attend meetings? Are these meetings weekly, monthly, or quarterly? Will you be required to travel to other branch locations for these meetings?
All of these questions are fair game to ask in the interview.
5. Who Will You be Working With?
Most importantly, who will you be working with within this new role? Does the majority of work within this role require you to work independently? Or will you be working closely with one or two people?
These are all imperative questions that you should ask the hiring manager, and Liberty Staffing, before you accept this new job.
Still unsure about whether you should accept this new role? Contact us. We would be happy to provide advice. Liberty Staffing Services connects great people with great jobs!