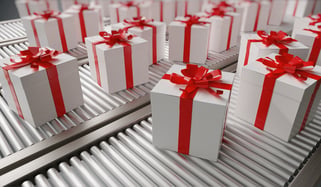 Are you looking to make some extra money this holiday season? The holidays are fast approaching. Liberty Staffing is hiring! We have lots of great temporary jobs currently available. Check out our job board.
Liberty Staffing Services is an independent staffing agency with multiple branch locations across Ontario. We help job seekers find local employment. Whether you're looking for a temporary, temporary to permanent, or permanent job opportunity, Liberty Staffing can help. We offer general labour, warehouse, industrial, and office jobs.
Here's why you should accept a temporary job with us this holiday season.
1. Earn Some Extra Money
The holidays can be expensive. You have gifts to pay for on top of your regular expenses. Why wait and stress about the large bills that are coming in January, when you can be proactive and accept a temporary job now?
Temp jobs are a great way to earn some extra money quickly. Most require you to start as soon as possible. Liberty Staffing offers a great quick-start electronic pay program in which you'll be able to earn money for your first few days of work the day of (conditions apply), and then we pay out our employees on a weekly basis.
2. Shifts That Fit Your Schedule
We offer temporary jobs that fit your schedule. Whether you're looking for a job on a day, afternoon, or night shift, we can help. Liberty Staffing Services also provides straight or rotating shifts. Most of our temporary jobs have full time hours, but we do offer some part time work as well.
3. Short Term Positions
The great thing about temporary jobs is that they're usually short term. So this means that you can work for a couple of weeks, or months, earn the extra money that you need, or gain the work experience that you need, quickly.
4. Jobs in Your Area
Liberty Staffing offers jobs in Brampton/Mississauga, Cambridge, Guelph, Kitchener/Waterloo, London, Stratford, Woodstock, and surrounding areas. Whether you take public transportation, or you have a car, we can help you find local work.
Not only does Liberty Staffing provide jobs in your geographical area, but we also offer jobs in the field that you're looking for. So, for example, if you're looking for packaging work, we can help! We listen and take the time to understand what type of work you're looking for, and place you in a role that fits.
5. Add to Your Resume
A lot of people make the mistake of not noting any temporary jobs that they've worked on their resume. This is because the timeline for when they work a temporary job is often short (maybe a few weeks or months). They don't want an employer to think that they job-hop, or move from one job to the next quickly, especially if that employer is looking for a candidate long-term.
You can add your experience working this temporary job to your resume. Just make sure to mention that the role is temporary or contract.
Apply Today!
Apply with us today! Contact your nearest Liberty Staffing branch location. Our recruiters would be happy to help you find your next great temporary job. Liberty Staffing Services connects great people with great jobs!