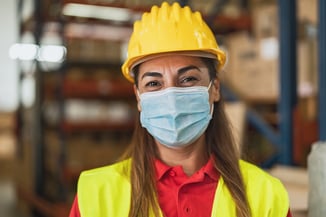 Are you looking for work in Ontario? Liberty Staffing Services is currently hiring for many great jobs. We offer general labour, warehouse, and some office jobs in temporary, temporary to permanent, and permanent opportunities.
Perhaps your mind is set on finding a permanent role. While permanent work is ideal for most, don't rule out a temporary position just yet. There are many great reasons why you should accept a temporary job.
Here's why you should accept a temporary job with Liberty Staffing.
1. Earn Some Extra Money
If you've been recently laid off due to the COVID-19 pandemic, taking on a temporary job may be the perfect solution for you right now. By accepting a temporary job, you'll be able to earn money quickly. Searching and waiting for that perfect permanent role could mean that you'll be out of work for months.
The job market is tough right now. Canada lost 213,000 jobs in January 2021 due to COVID-19 lockdowns. This is an unprecedented time. Unfortunately many job seekers don't have the ability to be selective in their employment options right now. People have expenses and bills to pay.
Even if you're set on finding a permanent role, you can take on a temporary job while you continue to search for something more permanent. You'll earn money while you continue your job search.
2. Try Out a New Role
Perhaps you've quit your last job because you'd like to try something new. A temporary job is a great way to try out a new career, to see what job best fits you and your skills.
Most temporary jobs are entry level roles, which means that most don't require a ton of prerequisites in order for a candidate to qualify. So there's no need to worry if you don't have the educational background, or previous work experience, in the field.
Temporary jobs are a great way to get your foot in the door to a position, or company, that you're interested in. It's time to try something new!
3. Add to Your Resume
Have you been out of work for awhile due to COVID? Do you have gaps of unemployment on your resume? Or perhaps you've recently graduated, and you're having a difficult time finding employment in your field.
Whatever the case may be, when you accept a temporary job, you can add this to your resume. An employer/interviewer will not frown at any temporary jobs that you have listed on your resume. In fact, having experience working within a temporary setting shows that you are a versatile and flexible worker.
Just make sure to note on your resume that these are temporary/contract roles, that way it won't appear like you job hop (i.e. move from one job to another quickly and without regard).
4. Flexible Hours
A lot of temporary jobs have flexible hours. In most cases, you'll have the ability to choose between a day, afternoon, or night shift. In fact, during our interview process, a Liberty Staffing recruiter will ask you what shift time you're looking for. We will match you with a job that fits your schedule.
Most permanent roles, especially those within an office setting, are typically Monday to Friday from 8am to 5pm. What if this doesn't fit your schedule? Unfortunately there's not a lot of options. If the schedule isn't right for you, an employer will choose another candidate that is better suited to this permanent schedule.
5. May Lead to Permanent Employment
There's always the option of a temporary position becoming permanent, particularly with the temporary to permanent roles that Liberty Staffing offers.
Think of a temporary job like a tryout. If you're a hard worker, you come into work on time everyday, and you excel in the role, an employer is likely to hire you on permanently. It's in their best interest to do so.
Ready to start a great temporary job? Contact your nearest Liberty Staffing branch location today! We connect great people with great jobs.