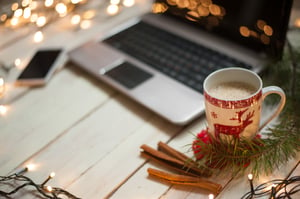 This holiday season, consider taking on a temporary job with Liberty Staffing. The holidays can be quite expensive, with gifts and groceries to purchase for family and friends, on top of monthly rent/mortgage payments and car payments/transportation costs. Many may find themselves strapped for cash. Working a temporary job can help relieve some of the financial stress of the holidays.
Liberty Staffing Services offers general labour, warehouse, industrial, and office positions throughout Ontario. With the holidays fast approaching, most companies are at their peak in terms of production levels. To meet the demands of the holiday season, companies usually hire temporary workers during this time.

Here's why you should take on a temporary job this holiday season. Read on.
1. Earn Extra Money
Taking on one or two temporary jobs is the perfect way to earn some extra money. You won't have to worry about going into the red zone financially this holiday season. A temporary job can help cover your expenses, even if the assignment is only for a couple of days.
Depending on the temporary assignment, some positions pay more than $14 an hour (which is currently the minimum wage in Ontario).
2. Flexible Hours That Fit Your Schedule
Many temporary jobs have flexible hours that fit your schedule. Whether you are looking for a day, afternoon, or night shift, Liberty Staffing will work with your requirements. Our goal is to find you the perfect temporary opportunity!
During the interview process, let us know what shift works best for you.
Can't work one day? We understand that the holidays are a busy time of year. Let Liberty Staffing know prior to your scheduled shift, and we can make arrangements with your supervisor.
3. Gain New Skills
With any new job that you take on, you'll gain new skills. Temporary jobs are great for candidates who would like to obtain more experience in the professional world, or people who need to brush up on their previous skills. Therefore, they are particularly ideal for new graduates who are entering the workforce for the first time, and professionals who are reentering the workforce after time spent away.
4. New Position to Add to Your Resume
Have you recently graduated? If you accept a temporary position from Liberty Staffing, you can add the position to your resume. Having this temporary position listed on your resume will show to potential employers that you do have some work experience. This will give you a competitive edge against recent grads who have no work experience.
5. May Lead to Permanent Employment or Employment Next Holiday Season
Any temporary opportunity has the potential to lead to permanent employment. You may have the option to continue working after the holidays are over, if the companies decides that they want to hire you on.
If you're a hard worker, the company may ask you to return again next year. You could potentially work every holiday season at the same company, if you like the position, and if the company asks you to return. Feel free to let your supervisor know that you would be interested in returning next year during the holiday peak.
Don't forget about our promotion in December! Employees who work for Liberty Staffing between December 1 and December 17 will be entered into a draw to win either a $75 or $150 President's Choice gift card. One or two winners will be randomly selected per Liberty Staffing location. Click here for more information.
Ready to apply to a great temporary opportunity with Liberty Staffing Services? Contact us today!