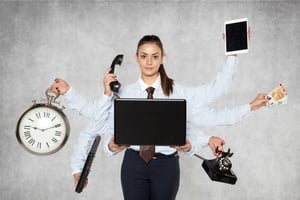 The phone is constantly ringing. You have to stop the task at hand and answer the call. There's a pile of tasks stacked on your desk that you haven't been able to get to. You're struggling to find time in the day to complete routine tasks...
There's a theme here. You're busy, and business is booming. If any of these scenarios resonate with you, then it's time to hire an Administrative Assistant. Liberty Staffing helps businesses find qualified Administrative Assistants. We provide temporary, temporary to permanent, and permanent Administrative professionals to businesses throughout Ontario.
Administrative Assistants wear many different hats. They are able to multitask easily, answer phone calls, complete filing, conduct data entry, and can handle anything that comes their way.
Here are five signs that you need to hire an Administrative Assistant right away.
1. The Phone is Constantly Ringing
Is your work phone ringing off the hook? If so, that's great because it means that business is booming! However, this may become a problem if you find that you're constantly answering customer/client inquiries whenever the phone rings. You know that there are other tasks that require your attention. So what can you do? Hire an Administrative professional.
One of the great qualities of Administrative Assistants is their ability to multitask. Answering phone calls in a polite and professional way is a given for most experienced Administrative Assistants.
2. Lack of Structure/No Schedule
The phone is ringing off the hook, and you can't find that important document needed for your meeting tomorrow. Not only that, but you can't remember what time the meeting is. You're tired of working in a chaotic environment, but you never have time to sit down and organize your work life. Hiring an Admin professional will fix this problem instantly.
Having structure and keeping a calendar of scheduled events is key to your success, and ultimately the success of the company. Key traits of a qualified Administrative professional include: great organizational skills, planning ahead, and keeping on schedule.
3. You've Missed a Meeting
Yikes! There's nothing worse than missing an appointment. This is a for sure sign that you need to hire an Admin Assistant, stat! Don't panic. Liberty Staffing has lots of great qualified candidates at-the-ready. Your first step is to get in touch with us.
4. You Feel Overwhelmed
If you're feeling like there's not enough hours in the day to complete all the things on your to-do list, then it's time to hire an Administrative Assistant. With a heavy workload often comes stress, tiredness, a feeling of being overworked, and limited time for personal matters. This would leave any human being feeling overwhelmed.
Bringing another employee on board, whether temporary or permanent, will relieve you of these stresses. You just have to be open and willing to bring on an assistant to help you. We can guarantee that you will be happier, and feel less stressed at work with an assistant by your side.
5. Had to Turn Away Business
Have you found yourself having to turn away new clients because you just wouldn't be able to handle the extra workload on your own? This is a huge red flag. If you're struggling to keep afloat of your workload, so much so that you've turned down sales, it's definitely time to hire an assistant.
Looking for qualified Administrative professionals? Contact Liberty Staffing today! We have many great, experienced candidates who are eager to start.