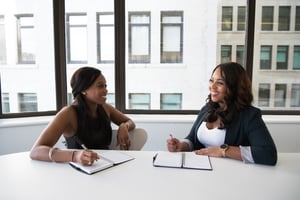 So you've hired a temporary employee through Liberty Staffing. Thanks for partnering with us! Liberty Staffing Services provides flexible staffing solutions to manufacturing and clerical businesses throughout Ontario. We have lots of great, skilled, and hardworking temporary employees who are ready to work.
Whether you have taken on the worker strictly seasonally, or you've agreed to a temporary to permanent staff member, as a business owner or recruiter, you'll want to supervise the new team member accordingly. Not only for training purposes, but to see how they are working out within your facility.
You'll want to ask yourself the following questions about the temporary worker. Do they complete the work quickly? Do they work well with the rest of your team?
At Liberty Staffing, we always check in with our clients to see how our temporary employees are fairing. However, here are some telltale signs that you've hired the right candidate for your business.
1. They Ask Questions
A new employee should be asking pertinent questions, especially during the training period. When an employee asks questions, it shows that they are interested in the position, and performing the tasks correctly.
If the employee is not asking any questions, the worker may be disinterested in the position. Or this could mean that they are thinking of leaving this job for another opportunity. They may see the responsibilities of the job first hand, and realize that the job is not right for them.
2. Fast Learner
A temporary employee who is a fast learner is a great sign. Training was a breeze for them, and they have learnt their responsibilities within the role quickly. That's a telltale sign that you've hired the right candidate.
Fast learners have great potential to move up within your company.
3. Work Well within the Team
Observe the temporary employee within their first week at your facility. Does he or she work well with your permanent staff? Are they open to have friendly conversations with your staff members?
In order for production to run smoothly, you'll need to ensure that all of your staff members work cohesively. All of your staff members, whether temporary or permanent, are important to your business.
4. Always Willing to Lend a Hand
A great employee will be always willing to lend a hand, even if it's not part of their job responsibilities. They take the time to finish their tasks, and if others are still working on their duties, they reach out and ask if they can help.
5. Looking to Grow within the Company
Lastly, the new employee will be looking to grow within your company. Their ultimate goal is to be hired on by you, get a promotion, and learn new job skills.
If you've brought on a temporary employee through Liberty Staffing Services, and they have shown any of these qualities, then you've gained a hardworking new team member. Congratulations! We are so happy to hear that things are working out.
Don't lose this great temporary worker. You can always ask the employee if they'd like to be hired on to your company permanently. Be sure to contact us if you are thinking of hiring the temporary worker on.