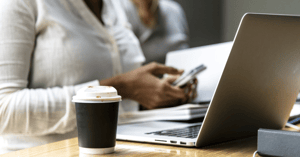 The recruiting game has changed a lot in the last few decades. Whereas job seekers once combed through the newspaper for job postings, they now search Google or hop on LinkedIn. In the past, someone may have come to your workplace to drop off a paper copy of their resume. Today, they can press a button and send their application in seconds.
Technology has certainly changed the way job seekers find and apply to jobs, but it's also changed how hiring professionals post jobs and find candidates. Using the right technology could speed up the hiring process, and help you find more talented people.
At Liberty Staffing, we want to ensure that you are finding the right candidates for your business. We would like to provide you with some recruiting tips.
Download our whitepaper to see how we solve our clients' evolving staffing issues
If you think your hiring process could use a technological make-over, you can start with these five tips.
1. Create an Easy Online Application
One of the great aspects of LinkedIn is how easy it is to apply to a job. Candidates click a button, and their application is sent to the prospective employer.
You can post your job on LinkedIn, but you should also consider posting it in other places as well. Always ask about how easy the application process is for candidates.
This is especially true of your own website. Many companies have convoluted application processes, which might discourage job seekers from applying.
You can also opt to use an app, which could make applying even easier for those who are on the go.
2. Use Social Media
We've already mentioned LinkedIn, which is probably the best social media site for recruiters looking for clerical professionals. That doesn't mean you should forget about Facebook, Twitter, and other social channels.
Posting a job to social media can be an effective way of reaching a wider audience, especially passive candidates. These people aren't actively looking for a new job, so they may not visit job boards, or look for jobs on LinkedIn.
3. Sort Resumes with Recruiting Software
Improving the application process and adding more social media channels to your posting network will help you find the talented candidates you're looking for. This strategy may also mean you end up receiving more applications.
What's a recruiter to do? Just as technology has made it easier for job seekers to apply to jobs, it could also simplify the task of sorting all those resumes.
The right recruiting software may help you locate keywords and scan resumes with ease. If you're not ready to invest in this software on your own, you can work with an agency like Liberty Staffing Services. Our expert team uses a recruiting software to ensure we recommend only the best candidates for your open roles.
4. Make Scheduling Interviews Easy with a New Tool
Once you've narrowed down your list of candidates, it's time to schedule interviews. Instead of passing emails about availability back and forth, a scheduling tool could save you, and the candidate, time and frustration.
Just plug in your available interview timeslots, and send the candidate a link. They can select the time that works best for them. The calendar updates as timeslots fill up, so you don't need to worry about double booking.
If you partner with Liberty Staffing, we can schedule a time that fits both you and the candidate on our end, saving you the hassle.
5. Conduct a Video Interview
Technology can even make it easier for your candidates to attend interviews. Instead of having them trek to your office, set up a time for a video interview. Video interviews might be a wonderful way to get a feel for the candidate before you ask them to come in to the office for an in-person meeting.
Video interviews could also be helpful for your team. If key people are on the road, they may still take part in the interview. There's no need to delay the process and wait until everyone can be in the same place.
Let us help you with your next hire! Get in touch with Liberty Staffing today and discover just how streamlined the hiring process can be.