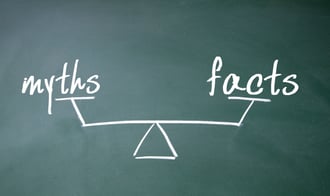 The myth is a strange concept. Although false, a myth has been repeated so many times that the majority of people hearing it will believe that it's true. This is the case with many falsehoods that surround the temp staffing industry.
Many employers who need temporary help to cover sick leave, maternity leave, vacation time, and other similar situations are still hesitant to contact a temp staffing firm for help because they believe the myths they've heard about the industry. Unfortunately, these business owners end up missing out on a lot of benefits just because they bought into certain myths that have scared them away from using useful temp services to their advantage.
So to put some of these falsehoods to bed, we've debunked five of the most common myths about temp staffing below. Check them out.
1. Temp Workers Aren't Qualified
The thought that temporary workers lack the same skill sets that permanent, full-time workers have is completely inaccurate. Your temp staffing agency will absolutely provide you with temp workers who have the skills, experience, and education required to get the job done correctly, safely, and quickly.
In fact, temp staffing agencies are known to have deep candidate pools filled with talented workers. Their recruiters work hard to identify and recruit top talent.
Choosing to work in temporary assignments is not a reflection of a temp's skill level.
2. Temps Cannot Find Full-Time Work
These job seekers choose to work in temp staffing for many reasons, such as the increased flexibility, the varying job experience, and the connections they can make. They might be continuing their education or have family responsibilities that make it difficult for them to keep up with full-time hours. When you hire temps, you're not "getting stuck" with someone else's leftovers. They are not unable to keep a permanent, stable job and are no less reliable or dependent than your full-time staff. They choose temp work because it fits their lifestyle—not because they have no other options.
3. Using a Temp Agency Costs Too Much Money
Many employers falsely believe that they'll get a low return on their investment if they engage a temp agency. They believe that they'll be getting little value for the cost. This simply isn't true. The reality is you can save money by going this route.
You'll cut the cost of overtime when you're short staffed, you'll improve employee morale by preventing burnout from overworked employees, you'll increase productivity by having enough staff members on the floor, and you'll save on the costs associated with the hiring process, bad hires, and a high turnover rate.
4. Temporary Workers Don't Work in Specialized Industries
Some employers believe that temp workers are just used in low-level, admin-type jobs. But the staffing industry is growing quickly, with more and more agencies popping up and more businesses using their services. Though temp agencies used to only focus on administrative placements, times have changed.
Agencies are now operating in niche sectors, recruiting workers with specialized skills for every industry. If you need workers for any type of job, you'll be able to find an agency that can deliver: information technology, accounting, manufacturing, nursing—you name it. You'll have access to highly skilled, A-level talent in your industry when you need them. Additionally, when you choose to work with a niche agency, you'll reap the rewards of its recruiters' deep knowledge and expertise on the subject.
5. You Can't Hire Your Temp Workers on Permanently
Using temp services is actually a great opportunity to test out employees before you hire them on permanently. Many agencies offer temp-to-perm placements where you first hire a candidate on a temporary basis and if you like his work ethic, you can hire him on permanently.