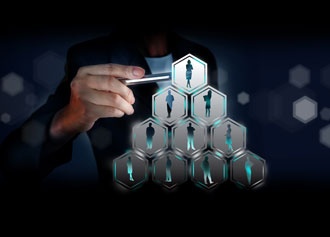 The success of your business depends on having the right people working in the right jobs. Having a qualified workforce is important in reducing costs, reducing risks, and increasing productivity.
Many organizations don't want to leave anything to chance. They know the cost of bad hires is too high to risk. So instead, they partner with staffing agencies for their hiring needs.
Partnering with a staffing agency can lead to many advantages in business, like more time, reduced costs, and better retention, but only if you choose the right partner.
To help you make the right choice, here are five things to look for in a Canadian staffing agency.
1. Knowledge of the Market
A good Canadian staffing agency will understand the Canadian job market. Your staffing partner should do more than just fill your hiring needs—it should offer strategic advice, share its expertise, and offer helpful information that can give you an edge over the competition.
When searching for a Canadian staffing agency, ask your short list of potential partners about the current challenges and opportunities in the market today as well as expected trends in the future of recruitment and hiring. Ask about average salary ranges and skill gaps. The answers they provide will be very telling as to their knowledge and expertise in the Canadian job market.
2. Niche/Specialization
Though not every employer will benefit from partnering with a niche staffing firm, generally the more specialized the positions you're looking to fill or the industry you work in, the more likely you will need a niche staffing agency on your side.
If the workers you need require specific expertise and experience, then it's likely that these candidates are in high demand and hard to find. A niche staffing firm that works in your specialized field can help you recruit and hire these sought-after candidates more easily and effectively.
A niche staffing firm will have broader networks, deeper connections, and more specialized expertise than a generalized agency can offer.
3. Reputation
Reputation matters. Your staffing partner should be able to back up its claims. You may want to consider working with a Canadian staffing agency that has been in business for a number of years—doing so will ensure that it has developed rapport and respect from industry leaders, top candidates, and other top businesses. It will also ensure that their recruiting and hiring methods are tried, tested, and true.
Depending on your needs, you might also want to consider a Canadian staffing agency that has a national or global network for your current or future hiring.
4. Customer Service
A great Canadian staffing firm will put customer service above all else. Its recruiters will take the time required to truly get to know your business and your unique hiring needs and challenges in order to ensure effective placements. They will answer your calls and emails promptly, answer your questions directly, and quickly take care of any problems or concerns as they arise. In addition, a great staffing agency will be just as diligent when it comes to taking care of its candidates' needs.
5. Services
No two staffing firms are exactly alike. Some will only offer their services in finding temporary staff, whileothers will only place permanent employees. Some will offer skills testing and drug testing while others will offer onboarding and training help.
Consider what services you're looking for ahead of time, above and beyond recruitment and hiring, to ensure that you partner with a Canadian staffing agency that can meet all of your needs.
Looking for a reputable staffing agency partner? Contact Liberty Staffing.