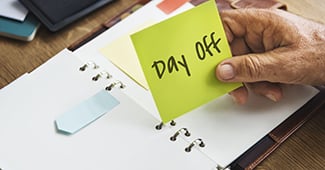 It's almost summer! As you focus on running your company during the summer, your employees are likely looking forward to vacations and well-earned days off.
If you want to keep everything running smoothly in your workplace, you have to plan ahead for those summer vacations and time off requests.
Looking for new team members this summer? Liberty Staffing can help you find great additions to your team, including temporary and seasonal workers who can fill in when your permanent workers are taking time off. Contact us today to talk about your staffing options!
Now, let's break down the five tips to keep your office running smoothly, even with summer vacations and time off playing a role in your operations.
1. Create and Distribute a Clear Policy
If there is any room for confusion in your time off policy, that is going to have a negative effect on your operations.
Take a look at your current policy. Does it clearly state when an employee must request time off, how long it will take you to approve their request, and how much time they can take, both paid and unpaid?
Is everything aligned with Canadian laws related to vacations and holidays?
Where is your policy posted? You could have a great policy, but if no one can find it, that doesn't help you manage your summer schedule.
If you need to write a new policy, it is best to do so with plenty of lead time before it affects summer scheduling. We recommend making any changes before the end of the calendar year if you want them to be effective the following summer.
The more time you give your employees to plan for their summer vacations, the better. After all, people need to book hotels and flights and share schedules with family and friends.
2. Increase Flexibility During the Summer
One of the keys to maintaining summer productivity is increasing the amount of flexibility you provide to your employees.
That can mean increasing the number of remote work days available to your office staff, providing more options for schedule changes, or even letting people work their typical workload in four days instead of five.
Promoting flexibility and adding more overtime availability to your team will help you achieve better staffing outcomes.
3. Prioritize Seniority When Approving Time Off Requests
When you have competing time off requests, the best strategy is to prioritize your more senior employees. This shows that you appreciate their long-term commitment to your company, and also provides a very clear and objective method of approving vacation requests.
4. Be Thoughtful About Turning Down Time Off Requests
Sometimes, you will need to turn down a time off request. Under Canadian law, you do have the right to decide when an employee uses their vacation time. What you don't want to do is create resentment or frustration in your employees by constantly turning down their requests.
If you need to turn down a request, be sure to express empathy throughout the process. Communicate why you need to turn down the request so that your team member (or members) will understand your rationale.
It's also important to provide an alternative. If their original request can't work, what can you offer instead? Thinking of this as a collaborative task will help you and your employees find a solution that works for everyone.
5. Hire Additional Staff/Seasonal Temporary Workers
If you expect that vacation time could lead to disruptions or understaffing, you may want to hire additional staff.
Hiring seasonal staff, including summer workers, is an incredibly useful strategy for several reasons. Although there are plenty of benefits, the one relevant to today's topic is that you can use temporary seasonal workers to fill in the gaps left by your vacationing employees.
Another great benefit to hiring temporary workers is that you can hire on a trial basis. You get to know if someone is a good fit for your company before you hire them for a permanent role.
Liberty Staffing Helps Southern Ontario's Employers Find Great Summer Staff
Looking for summer staff? We help companies throughout Southern Ontario find excellent temporary and seasonal employees.
With 6 branches across the region, we have been solving staffing problems since 1999. We know that workplaces are always in flux, and employers need to embrace flexibility to find success.
Check out the services we offer on our Employer FAQ page, and reach out to us to find out more about how we can help you get through this summer with minimal interruptions to your production schedule and operations.
Contact Liberty Staffing today!