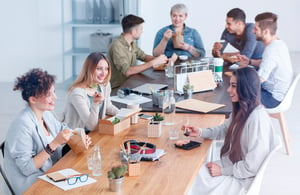 Have you recently hired a new member to your team? Whether it's a temporary, temporary to permanent (try before you hire), or permanent worker that's started at your company, it's important that you make your new employee's first day of work a good one. Make your new employees feel welcome and part of the team from day one.
On-boarding is a must when bringing on anyone new to your company. Here are some on-boarding tips and how you can welcome new employees to your team. Read on.
1. Provide Training Materials and Instructions
On-boarding is all about providing new employees with the necessary tools and training required to perform the job successfully and safely. For every new employee, make sure they get the proper training from their very first day. Provide physical training materials for them to read, and show them how to use the machinery and/or office software properly before working by themselves. As a supervisor, or manager, always be available and accessible for your new employees to approach you for further instructions and to answer any questions that come up.
2. Prepare/Decorate Their Work Station
It's imperative that you make each new employee feel welcome, even if their work contract is for a short amount of time. A great way to make new employees feel welcome is to prepare/decorate their work station. You can provide them with a name tag, company pens, shirts, or mugs, and other treats. Get your new employees excited and assure them that they have made the right decision in coming on-board.
3. Have a Team Lunch
Invite your new employee to lunch, and other company functions. This may not be something that happens on their first day of work, but make a point to take your new employee out to lunch when you're able.
A company lunch with the whole team is another great option. It's a good opportunity to introduce your new employee to senior members of the company.
4. Partner New Employees with Senior Members
A great training resource is to get the new employee to job shadow a senior member, especially when it comes to hands-on tasks. Often, the best training comes from watching and learning, particularly when you have senior team members that know the ins-and-outs of production. So partner new employees with senior members in your company.
5. Show the Facility/Office
Show your new team members the facility/office on their first day. This will make them more familiar and comfortable with the environment, which will ensure efficiency. It's also a good idea to show your new team members the products that you make, to give them a better understanding of the services that your company provides.
Need more on-boarding tips? Contact Liberty Staffing today for more information.