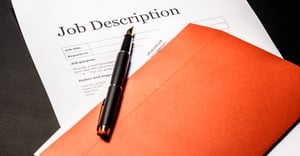 The job market has been tough for job seekers lately, but there's reason to believe the landscape will soon be shifting again. As economies recover and businesses get creative with handling holiday demand, there's going to be more competition for employers to land top talent.
Download our whitepaper to see how we solve our clients' evolving staffing issues
How can you make sure people are noticing your job posting? You can write a more enticing job description. If you're not sure how to do that, start with these five tips.
1. Involve Current Employees
One of the steps you can take toward writing more enticing job descriptions is to involve your current employees. How would they describe the job? If you can, get someone currently in the position to describe what they do and what they love about the job.
You could also ask other team members. How does this role help them or support them? Try to incorporate some of the language they use. It will give the description a more accurate, emotional appeal.
2. Get the Keywords and the Title Right
Make sure you have the keywords and the title for the job description right. That will help to ensure you have the right people seeing and applying for the job.
Try to avoid superlatives and "creative" descriptions like "the best of the best" or "rockstar." This sort of language can discourage some people from applying. It could particularly hurt your efforts at diversifying your team.
It can also prevent these people from even seeing the job ad or description in the first place. Very few people will search "administrative rockstar" or "order packing ninja." They may even gloss right over these job ads, thinking they're not for the position they want.
Instead, focus on accurate job titles. Then work keywords into your description. Try to ensure those keywords align with the skills candidates should have for each position. Remember not to include every single skill. Emphasizing the right ones will get your job description in front of more people.
3. Emphasize the Emotional
How will taking this job help the candidate grow in their career? Are there opportunities for promotion? Will they be part of the team, and what will they bring to the table?
Job seekers are emotional, and they want to get excited about a job prospect. Emphasizing what's in it for them, like belonging to a team or opportunities to grow, will help them feel more like this is the job for them and encourage them to apply.
4. Describe Company Culture
Another emotional hook is your company culture. Make sure you're describing your business in a way that makes people want to work for you. Why should they choose your warehouse over another one? What do you offer that the other company can't?
The difference is often your company culture. Maybe you really do believe in the team outlook, or maybe you offer better benefits and more flexibility. Maybe you see and reward hard work, and you want people who are determined to succeed no matter what.
Describing your company culture will help you entice the right candidates. It will entice people who share similar values and encourage them to apply. At the same time, it will tell less suitable candidates that working with you may not be the right move for them. It's win-win for everyone.
5. Be Innovative
Finally, if you want to catch the eye of a job seeker, it helps to be innovative. Is there some way to make your job ad more interactive? Will you accept video submissions? You may want to see what you can do to make your ads stand out.
Ready to Find Better Candidates?
We're here to help! Get in touch with Liberty Staffing Services and discover how we can help you find great top talent. With better job descriptions in hand, and our expertise behind you, you'll make better hires every time.