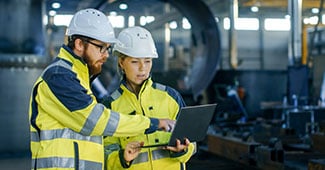 Some people love to conduct job interviews, while others find the experience to be either tedious or stressful. Regardless of the feelings that come up when you are tasked with interviewing manufacturing candidates, we have got some questions that will help you find the best new team members for your business!
If you're looking for new manufacturing workers, including both temporary and permanent staff, let us know! Liberty Staffing is constantly helping manufacturing companies meet their staffing needs.
We recommend that when it is time to interview manufacturing clients, these are the questions you should focus on.
1. Why Do You Want to Work in Manufacturing?
The answer to this can vary wildly from person to person. Some of your candidates will probably have a manufacturing background and are looking to continue their career within their established field. Others are looking for their first manufacturing job and may not even know much about how the industry works.
This question allows you to learn quite a bit about your candidate's motivations for applying. Use the information the candidate provides to gain insight into their personality, interests, and the ease with which they can answer a relatively simple interview question.
2. What are Your Short and Long Term Professional Goals?
This is another good one for getting to know your candidate.
The practice of setting and evaluating goals is a proven predictor of overall success. In fact, goal making is one of the key indicators of high workplace performance. If your candidate can quickly identify a handful of goals, that is a great sign that this is a thoughtful person who makes and sticks to their plans!
3. How Did You Solve a Challenging Problem in Your Last Position?
Whether your candidate has worked in manufacturing previously or not, they can answer this question as long as they have had a previous job. If this is their first-ever interview for their first-ever job, you can adapt this question to say, "How did you solve a challenging problem on a team, in a classroom, or in a club that you are a part of?"
Manufacturers have to be good at problem solving. There is a lot of quick thinking required on the job, and the factory floor is not the place where you want to have a lot of indecision or hesitation.
Find out how innovative your candidate is by learning about a problem they solved in the past.
4. What is Important to You When It Comes to Workplace Culture?
Today's job seekers have a lot of options. With a worker shortage affecting many industries, including manufacturing, the person you are interviewing may or may not need to take a job with you. There is a good chance that they have options elsewhere!
One way to recruit top tier talent during this period is to ensure that your employees feel valued, listened to, and part of a team. In some ways, your candidate is also interviewing you! Give them a chance to figure out if it's a good fit by asking them what they are looking for when it comes to workplace culture.
This answer will help you see if they are a good fit. For example, let's say that you are interviewing two well-qualified candidates for the same position. You can only hire one of them. When you ask this question, one of the candidates talks about how much they thrive on working independently, meeting goals without interference, and putting their head down to get everything done.
The other applicant says that they prefer a collaborative approach to work and love being a part of a great, functioning team.
Which candidate is best? It depends on your workplace culture! If you have a collaborative, team-based approach to work, and you know that your new hire will need to interact with lots of people on a daily basis, the second candidate may be your best choice, even if everything else about the two applicants is quite similar!
5. Ask Questions That Have Purpose
Our final piece of advice is to ask questions that have a clear purpose. Each question should be about more than just the specific answer; you should also be paying attention to communication skills, quick-thinking, personality, and more.
Use the interview opportunity to assess how well the job-seeker communicates with someone they don't yet know. Are they personable and warm? Some people are more nervous in demeanor than others, or quite introverted, and that is okay. But does the person clearly care about the interview, the position, and whether or not the two of you are communicating well?
You can also clarify anything on the applicant's resume that isn't clear. If you have questions about a previous job title, job description, dates of employment, or how it applies to this new position, ask! A well-rounded candidate will be happy to talk about their experiences and clarify any of your questions.
Liberty Staffing Can Help Solve Your Staffing Problems
If you're facing staffing issues right now, you are not alone. Many manufacturers across Canada are dealing with employee shortages and the stress that comes along with those. Your remaining workers are likely feeling a lot of pressure from not having enough people on hand to appropriately divide up the workload.
Liberty Staffing can help! We have helped countless businesses here in Southern Ontario as they have sought to improve their staffing situation.
Reach out today with your questions about staffing, or to get started on the right path to having enough workers to grow your business and start seeing an increase in profits.