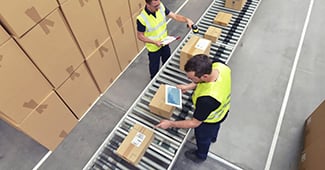 Warehouse staffing may be complicated, but it doesn't have to be stressful. Working with a staffing company is one of the best ways to manage the recruitment process for your warehouse staffing needs.
If you're looking for new people to join your team, Liberty Staffing can help! Contact us today to tell us more about your needs.
There are several ways that a staffing company can help you prep for the next phase of your warehouse recruitment process, but here are the top five.
A Staffing Agency Will Focus on Your Specific Needs
A staffing agency is only successful when we understand what specific things your business needs to be successful. After all, a staffing agency must be able to find quality employees quickly for you, and ensure that they are a good fit for your company.
The first thing we do at Liberty Staffing is find out about your company and your unique needs. Every business needs something different when it comes to staffing. We find out about your business, operations, goals, and struggles.
Then, using that information, we create a strategy that will help you fulfill your staffing needs effectively and quickly.
Staffing Agencies Have Access to a Huge Network of Job Seekers
One of the best things about working with a professional staffing agency is that staffing companies have far more connections to potential candidates than anybody else!
Staffing agencies spend years developing strong relationships throughout the community. At Liberty Staffing, for example, we have worked with job seekers in Southern Ontario for over twenty years.
That means that we have developed deep and comprehensive knowledge about job seekers in our communities.
A staffing agency knows how to spread the word quickly about a new open position. We know how to reach candidates who are actively seeking new employment and those who are currently employed but open to recruitment.
Let Your Staffing Agency Create a Virtual Application Process for Your Company
Today's job application process is easier for candidates than ever before–and yet more of a challenge for employers.
You need to have a virtual application process ready. Putting this process together requires up-to-the-minute knowledge of application software and application portals. Without this knowledge, employers miss out on highly qualified candidates.
However, developing and maintaining that knowledge takes a lot of time. Often, employers don't have the time to spare.
Staffing agencies know how to put together and maintain a virtual application process because that's a huge part of doing this job. You don't have to worry so much about how to run a virtual application system when you have someone to take care of that for you.
Staffing Companies Easily Hire Temporary or Permanent Workers, Based on Your Needs
Hiring temporary employees will revolutionize your staffing experience.
There are so many benefits to temporary staff: scale up quickly, and scale back down without needing to lay people off. Adjust your staffing quotas for busier seasons. Make sure your new employees are a great fit before hiring them permanently.
Staffing companies aren't limited to finding temporary workers, of course. We also place plenty of job seekers into permanent positions from day one. Warehouses often need temporary staff who can onboard quickly and wrap up their employment at an agreed-upon date.
Job candidates who are interested in temporary work often look to staffing agencies first, before they seek out specific employers. We see this at Liberty Staffing; people come to us because they know about our excellent customer service and placement statistics.
When it's time to recruit new workers for your warehouse, a staffing agency will find the right people to fill those open positions.
Spend Time Running Your Warehouse, Not Stressing About Staffing
Running a warehouse is a big job, but it doesn't have to be made even more complicated by staffing challenges.
When you work with a staffing agency, we do everything we can to support you and your specific needs. Instead of spending your time posting job listings, maintaining a recruitment presence online, attending job fairs, and interviewing candidates, we take care of that for you.
All of that leaves you with the freedom to focus on the operations of your warehouse!
Liberty Staffing: Southern Ontario's Top Staffing Agency
If you're ready to work with a staffing company that understands the ins-and-outs of the warehouse industry, Liberty Staffing is ready to help!
We've been staffing companies in Southern Ontario for decades, and that includes warehouses. The first step to making your warehouse recruitment process go far more smoothly is to reach out to us so that we can learn about your company and what you're looking for.
After that, we can get started on a customized staffing plan that helps you keep your warehouse fully staffed, even in the busiest seasons!
Contact Liberty Staffing today to get started.