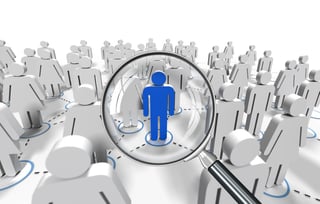 When you're searching for a job, it can often be discouraging to send resume after resume and hear nothing back from a potential employer. Although you have all the credentials and qualifications for the job, you may not get called in for an interview. So what can you do to stand out from the crowd? Liberty Staffing Services would like to provide you with a few tips to help you get noticed by a potential employer.
Be Professionally Active on Social Media
In a world that is so technology-driven, it comes as no surprise that many people have multiple social media accounts. While many view social media as a personal thing (a way to socialize and connect with family and friends), there are various platforms that you can use on a professional basis. Twitter and LinkedIn are two great examples of social media platforms which can be used on a professional level.
Twitter is a great way to market and promote your brand. Tweet thought-provoking articles relating to your job field. Engage in a professional discussion. You can even follow companies on Twitter that you are interested in applying to.
As the world's largest professional network, LinkedIn is a networking tool for people seeking work and business partners. Creating a LinkedIn account is easy, and it helps you create a digital version of your resume.
When you participate actively on social media in a professional manner, you are showing a potential employer that you are tech savvy, forward thinking, and open to do business through diverse mediums.
Update Your Resume
When an employer posts a job online, they have to search through a sea of resumes to find the right person for the position. So when an employer is assessing candidate after candidate, what can you do to get noticed? Make sure to update and alter your resume to fit the job description. Use industry-specific keywords that describe your skills and work ethic. Keep your resume organized in a logical way, and keep the information up-to-date.
Work with a Staffing Agency
A great way to get noticed by a potential employer is to work with a staffing agency. Staffing agencies have recruiting professionals with years of experience. They will work on your behalf to find you a suitable position quickly.
Many companies use staffing firms to add quality employees to their business. Staffing agencies have access to hidden jobs, and they have a multitude of network connections. By working with a staffing agency, you will instantly broaden your contacts.
Liberty Staffing Services has many job opportunities currently available. Our services will help you get noticed by a potential employer. Register with us today!