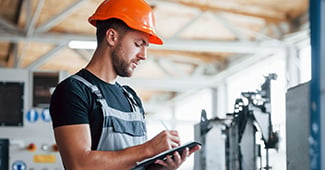 If you want to increase productivity in the workplace, what are your options?
There is a lot of advice out there about how to increase productivity, including things like better training, improved processes, strategic hiring decisions, and more automation. But what can you do with the employees you already have in the workplace?
There are a lot of incentives you can provide to your employees to motivate them and increase their productivity. We have seen numerous businesses implement strategies like this with lots of success.
Contact Liberty Staffing to learn more about finding the right employees for your business – especially the ones that will help your productivity increase!
1. Provide Meaningful Training
The worst thing you can do when training and onboarding new employees is to make it painful, boring, and unbearable.
Yes, training does have to cover important information that isn't always exciting. But the training period is one of your first real opportunities to set the tone for what the workplace is going to be like.
Don't delegate training to someone who is low-energy or presents a negative view of your company. Instead, training should be the responsibility of someone with great energy, a positive outlook, and a strong understanding of onboarding best practices.
2. Be Flexible
Workplace flexibility is so important to job seekers right now! If you're not offering flexibility in your workplace, don't be surprised if your best talent is starting to look elsewhere.
Workplace flexibility can include easily adjusted schedules, hybrid positions, remote work, and customizable schedules that meet your employees' needs. For example, a flexible workplace might allow some employees to work a traditional 40 hour week spread out over 5 days, but another employee could get it all done in 4 days.
3. Stay Open to Feedback
Employees are sometimes hesitant to provide feedback to their employers because they fear some kind of retaliation or negative impact. Even if you would never intentionally respond negatively to employee feedback, people have often had enough bad experiences to be cautious when asked for their ideas and comments.
We recommend creating an atmosphere where feedback is valued and prioritized. Provide lots of opportunities for feedback, including less consequential things. That way, your employees will have practice giving you their thoughts, as well as the opportunity to see you respond to their feedback and implement reasonable changes.
You won't know some of the reasons why productivity is lagging unless you ask. And when you ask, you won't get authentic feedback unless you have made a point of becoming a manager who listens.
4. Reward Great Performance
How do you currently reward your top performers? How do you reward people who have improved their performance from one quarter to the next?
Rewards come in many forms! You can provide incentives in the form of cash bonuses, employee recognition events, special privileges in the workplace, a designated parking spot, extra PTO, or even just a thoughtful thank you note from the leaders in the company.
If you want people to increase productivity, give them a great reason to do so!
5. Include Your Employees in Goal-Setting
There are plenty of reasons why the leadership in your company makes all the big decisions and revenue goals. But have you considered how you might get your employees involved in your goal-setting processes?
People feel more connected and more motivated to do good work when they are part of a team that values their input. They also feel more invested in reaching a goal that they are a part of creating.
When it is time to set goals for your employees, think about how much more buy-in you will get if they are involved in creating those goals and benchmarks!
Find Motivated Employees through Liberty Staffing
If you are struggling to find high-quality employees who are motivated to do great work and make your company a better place, one solution is to work with a staffing agency!
Liberty Staffing has plentiful connections within the Southern Ontario business community, and we know where to find the best job candidates for your business.
We help businesses like yours find temporary workers, permanent employees, full time staff, and part time help.
Contact us today to set a time to talk! We can share even more strategies with you about finding the right employees and motivating them to do great work in your workplace!