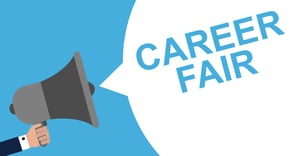 A career fair can be an excellent way to find new opportunities and connect with potential employers. Whether you've been on the job hunt for a while, or you're just starting out, it could be just the boost you need.
That said, the career fair experience has to be handled the right way. The environment can be overwhelming, which means planning is essential for a productive day.
Looking for a job? Let Liberty Staffing connect you to the jobs you want. Apply today!
Liberty Staffing attends many career fairs to find great local talent for our available positions. We've put together this checklist to help you plan your way to career fair success.
Check Out the Floor Plan
When preparing for a career fair, check out the floor plan. Where will certain employers be? Are they situated near each other?
Knowing how the floor is laid out helps you logically move through the space. You don't want to run laps around the building, or zig-zag between booths. The chances of missing an employer you really want to talk to, or needing to cut your visits short increases as you spend more time walking aimlessly.
When you know where everyone is situated, you can outline a plan to efficiently move through the fair. Be sure to leave plenty of time between booths, and leave yourself enough time to double back for anyone you had to skip or miss.
Prioritize Your Visits
Once you have a good idea of which employers will be at the fair, and where they'll be situated, you can begin prioritizing your visits. Which booths must you stop at, and which employers do you need to talk to?
Start with the employers you really want to talk to. Maybe they have already posted roles, or maybe you've applied to some of their open positions in the past. Maybe you've heard about them from colleagues, friends, or family. Maybe they're considered one of the best employers in your industry.
From there, map out your day. Add in employers that you'd like to meet but feel are less important. Then you can fill in gaps in your schedule with other employers that might represent opportunities.
Prioritizing like this allows you to map out your goals, as well as to plan how much time to spend at any given booth. If you get caught up in a conversation with one of your A-list employers, then you can skip some of the less important booths to ensure you reach everyone on the A-list.
Ensure There's Time for Conversation
It's tempting to cram as many employer visits onto your schedule as possible. You may think you can stop by every booth, so long as you simply drop off a resume and then move on.
This isn't a good strategy, particularly if you want to impress a particular employer. Leave yourself time to circle back. Someone might be busy, or have gone on lunch when you arrive. You can always go back.
You must also leave time for conversation to leave a good impression with the employer. You might plan to spend five or ten minutes at a booth, but a good conversation may run much longer. Don't cut these conversations short. They could turn into a job!
Do Your Research
If you're having trouble narrowing down your list of employers, or prioritizing employers to visit, it can help to do some research. Learning more about a business could help you see if a job there would be a good fit for you.
Doing your research is also beneficial for when you meet with the hiring representatives.
Bring Your Materials
You may think you only need to bring so many resumes, or a particular number of business cards. After all, you're only going to visit so many employers.
It helps to bring extra. You never know when you're going to end up in a great conversation with an unexpected potential employer.
With these tips in hand, you'll be better prepared for your next career fair. Best of luck to you! Contact Liberty Staffing if you have any further questions.