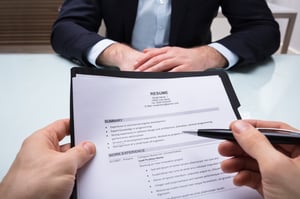 Are you on the hunt for a job in Ontario? Whether you're hoping to venture into a new role, or you're entering the workforce for the first time, Liberty Staffing can help.
Liberty Staffing Services is an independent staffing agency with 9 branch locations throughout Ontario. We offer general labour, warehouse, and office work in temporary, temporary to permanent, and permanent opportunities. Apply with us today! Come in with an updated resume.
Some of our client companies require a resume. At Liberty Staffing, we want to see you succeed professionally. Make sure that your resume stands out in a good way. Here are three resumes mistakes that you should avoid at all costs.
1. Incorrect Contact Information
Whether you're creating, updating, or sending out your resume to hiring managers, you'll want to ensure that you have typed in the correct contact information for yourself. It can be easy to misstep and type in an incorrect number for your phone number on your resume. Or, perhaps when you were updating your resume, you forgot to update your contact information.
Whatever the case may be, always double check to make sure that the contact information that you present on your resume is correct. After all, you want hiring managers to call you for an interview. They won't be able to do this without your correct contact information.
2. Spelling Errors
A big no-no is to send a resume full of spelling mistakes and grammatical errors. If you do this, your resume will go straight to the no pile. It's incredibly important to have no spelling errors on your resume. This shows that you are polished and professional.
Multiple spelling errors found on resumes can make you appear messy and unorganized. You have a better chance of landing an interview if you take the time to proofread your resume before sending. Better yet, ask a friend, family member, or neighbour to proofread and edit your resume. A second eye can really help to pinpoint any spelling errors that you've missed.
3. Sending a Generic Resume to Specific Positions
Another resume mistake that you'll want to avoid is sending the same generic resume to each job advertisement that you apply to.
Take the time to read over the job description before you decide to apply. Once you've read the job description thoroughly, and you feel like the role is a good fit for you, tailor your resume to fit the position at hand. For example, are you applying to a Forklift opportunity? State on your resume what Forklift machines you're licensed on.
Need more resume tips? Contact your nearest Liberty Staffing location. We connect great people with great jobs!