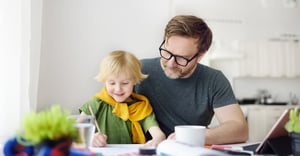 September is here. Back-to-school season is even more stressful than it usually is, as parents combat a wide range of possible learning scenarios for their kids. Some are waiting for daycare placements for their young children, while others are preparing to send their children back to class full time.
Still others will be balancing the demands of childcare and remote learning for their school-aged children. On top of this, many parents are being asked to return to the workplace, either part time or full time.
Looking for a job? Let Liberty Staffing connect you to the jobs you want. Apply today!
Some parents may be considered for a new job or looking for employment after having been laid off earlier in the year. If this sounds like you, then you might want to consider some of these flexible options and apply with Liberty Staffing. Liberty Staffing offers all of these job opportunities.
1. Customer Service Representatives
Customer Service Representatives were in demand before the pandemic hit. Even when retail shops closed doors at their physical locations, people kept shopping online.
As a result, demand for CSRs has shifted largely to remote positions. You may be able to find a job where you field phone calls, answer emails, or engage in online chat with customers. These positions often offer a great deal of flexibility, especially since you can work remotely.
You might be able to work a couple of hours in the morning before the kids head out to the bus. An evening shift or afternoon shift could also be available.
As more stores open up, they may be on the hunt for CSRs to meet their customers in-person again. Many stores are operating on limited hours, which can create more flexibility in your work schedule.
2. Cleaning and Sanitation Jobs
Many businesses are booking additional time with their cleaning crews, whether those positions are in-house or provided by an outside vendor. As a result, there are many more jobs available for those in the cleaning and sanitation field.
Some of these positions will be part time, temporary positions. They may involve working early mornings or even overnight, which could give parents the flexibility to provide some childcare or even online learning for their kids during the daylight hours.
Some jobs will only need you for a few hours a day, and some may even offer weekend shifts. These options maximize your flexibility.
3. Administrative Assistants
Administrative Assistants were also in demand before lockdown started, and they're likely going to be in demand again. Some will be employed part time in the office, especially if the business is operating on reduced hours or limiting appointments.
Some of these positions will offer the opportunity to work from home. You may find a job that offers the option to split your time between the office and your home office. You might be able to define your own schedule while working from home, working in the morning, and taking the afternoon off or vice-versa.
4. Warehouse Positions
Many warehouse positions offer a good deal of flexibility in their scheduling. Part time, temporary, and other positions may be available.
Remote work isn't usually an option with this kind of work, but it has proven to be more stable through lockdowns than some other options.
Warehouses may operate in several different shifts, which could provide flexibility in terms of scheduling. You might work weekends or evenings, freeing up your time during the week. That can give you a chance to meet other commitments, such as providing childcare or engaging in remote online learning for children.
Some warehouses will also be operating on limited hours, or asking employees to only work so many hours a week, to limit their potential exposure. This, in turn, could help free up your schedule.
Discover New Positions with Liberty Staffing
If you're in the market for a job that will meet your commitments as a parent, get in touch with Liberty Staffing Services today! We can help you discover great new roles that will fit your schedule.