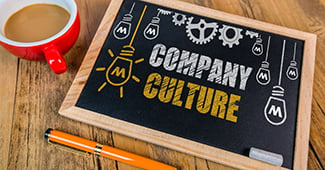 Changing jobs is a big step, and it can be a little intimidating to try to figure out in advance if you're going to like a new company.
More and more job seekers want to make sure that they work for a company with a great culture. At the same time, many employees feel like there is a disconnect between what their employer says about company culture and what they truly experience.
If you're looking for a company that matches your values, working with a staffing agency like Liberty Staffing is a great strategy. Our job is to create excellent matches between employers and employees; we are only successful if both the employer and the employee end up being a great match. Reach out to Liberty Staffing today to find out how we can help you find a great new job placement.
When you go into a job interview, use these questions to help gauge company culture to make sure that this is the best fit for you!
How Do You Celebrate Employee Successes?
This is a great question because it helps you identify how the company rewards and incentivizes success. It's also great for determining if the way that the company celebrates success matches the way you want to be rewarded for hard work.
Is your biggest priority a cash bonus for great work? Then you're going to want to hear that as part of the answer! However, there are plenty of people who are pleased with other kinds of incentives, such as extra personal days, employee recognition, and special perks like priority parking or a gift.
What Does the Company Do to Motivate the Entire Workplace?
Incentives for excellent work are great, but what about the weeks or months when you're not the top performer? If you find out that an employer is prone to demeaning or belittling those who aren't performing well, what does that say about the culture of the workplace?
It's unlikely that an interviewer would answer this question with, "We belittle and ridicule people who aren't successful," even if that's what they do. But you can get to the truth of this by paying attention to how easily they come up with an answer.
If your interviewer can tell you about more than just top-achiever incentive programs, that's good news. Do they have mentorship programs for new employees? Programs in which everyone benefits when the whole group succeeds?
These are the things you can hope to learn about from this question.
What Does Workplace Flexibility Look Like Here?
Workers are looking for more flexibility across countless industries. Don't forget to ask what workplace flexibility looks like at the company where you are interviewing.
Look for the kinds of flexibility that will make you happy in your workplace. For example, do you want the option to change your schedule at the last minute if you have a personal or family emergency? Or is it important for you to be able to work remotely from time to time? What about working longer shifts for fewer days of the week so that you have more days off?
Pay attention to the attitude of the interviewer when you ask this question. Are they enthusiastic and quick to answer how they provide workplace flexibility? Or does their attitude suggest that they view workplace flexibility as an irritation or unreasonable demand? That attitude will reveal a lot about company culture.
What Makes You Proud to Work Here?
Interviewers may not expect personal questions about their experience at the company, but think of it this way: this is probably the first person you get to talk to who is inside the company day in and day out. They are a great resource when it comes to learning about workplace culture.

This is a positive question that should prompt an interesting answer. There's a little bonus to this question, too. It helps if you look good in the interview because it shows that you're interested in more than just talking about yourself and your qualifications. You also care enough to learn about the experiences of others!
Do You Have a Healthy Work-Life Balance Here?
This is another personal question to ask your interviewer to find out more about work-life balance. Don't hesitate to ask specific follow up questions to learn more, especially if the answer isn't very detailed at first.
For example, you could follow up with a question about how the employer prioritizes a healthy work-life balance and how they ensure that their workers are not over-committing themselves to work at the expense of their families, personal goals, and health.
Liberty Staffing: Helping Job Seekers Find the Right Culture Fit for More Than 20 Years
At Liberty Staffing, we've been pairing employers and employees in Southern Ontario for over 20 years.
We know how important it is to work for a company that matches your values–and we want to help you find that fit. Whether you're looking for a temporary or long term position, full time or part time, we can help.
Reach out to Liberty Staffing today to find out about the companies we are working with who are looking for great new hires!