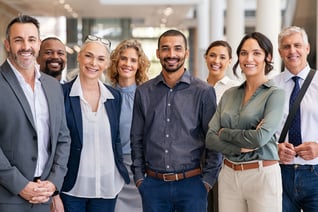 Are you looking for flexible office staffing solutions for your business? Is your company located in London, Ontario or surrounding areas? Get in touch with Liberty Staffing Services.
Whether you're looking for Administrative Assistants, Receptionists, Data Entry Clerks, Accounts Receivable/Payable, or Customer Service Representatives, on a temporary or permanent basis, Liberty Staffing Services can help!
Here's more information about our staffing agency, and why you should partner with us to fill your open office positions.
About Liberty Staffing Services
Liberty Staffing Services is an award-winning, independent staffing agency with multiple branch locations across Ontario. First established in 1999, we've been providing exceptional flexible staffing solutions to local businesses for 24 years!
We have qualified clerical candidates ready to work in London, Stratford, and Woodstock, Ontario. Liberty Staffing offers temporary, temporary to permanent, and permanent office staff.
Why You Should Partner With Us
The recruitment and onboarding process can take a lot of time, time that you may not necessarily have to offer. If you recruit on your own, you'll need to: create a job description, advertise the job on online job boards, then you'll need to sift through hundreds of resumes, contact candidates to schedule an interview, conduct hour long interviews, send rejection/hired emails to candidates, wait for candidate responses, onboard candidates (with WHMIS training/testing, etc.), get candidates set up on your payroll, and then you'll need to train them for the job.
It's also important to consider that candidates may decide that the position is not right for them, and they may quit. Or they may not accept your job offer at all. Or there may be candidates that you've already hired but you've realized that they just don't fit the office role. All of these situations will lead you back to square one.
Liberty Staffing Services takes the stress out of the recruitment and onboarding process. We have clerical candidates who have already registered with us, and are ready to work. All that you need to do is contact us!
Contact Us Today!
Ready to partner with us to help fill your open office positions? Contact our Office Recruitment Specialist, Jodie Verberne, today!
Call: 519-453-9021
Email: jodiev@libertystaffing.ca
Visit:
715 Wellington Road South, Unit C
London, Ontario
N6C 4R4