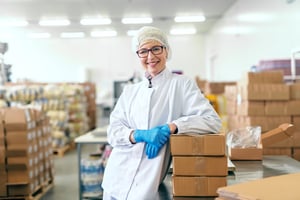 Are you looking for a great job opportunity in Cambridge, Ontario? Liberty Staffing Services is currently recruiting for full time Food Processing/Packaging Associates! Here's some more information about the role.
Shifts: Monday - Friday
Full time position: With potential to be permanently hired at full time hours
Days: 6:30 am - 2:30 pm (there could be times where the day shift start and end time are adjusted) Afternoons: 2:30 pm - 10:30 pm
Wage: $15.50/hour
Starting: Immediately

Job Duties:
- Packaging food products such as beef, chicken, pork, and seafood
- Preparing food products
- Quality inspection of products
- Labeling
- General clean up
Requirements:
- Able to work in a cold work environment as average temperature is 2 - 6 degrees Celsius
- Able to lift up to 50 lbs occasionally
- Previous experience in a similar role is an asset
- Able to complete repetitive work and keep up in a fast-paced environment
- Must be available to work full time ongoing hours with potential for hire
To apply, please contact Liberty Staffing Services at (519) 624-2877! We connect great people with great jobs.