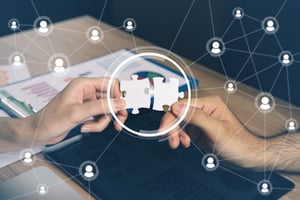 If you're on the hunt to find a job, a staffing agency is probably your best bet. Unfortunately, many job seekers do not even think of applying to an agency. This could be because of common misconceptions, or social stigmas surrounding using a staffing agency.
Don't listen to those myths. A staffing agency, like Liberty Staffing. can help you find work. Trying to find a job on your own can take weeks, even months. The longer you are unemployed, the less money you have to pay bills, and you will have a large gap on your resume.
Here's how we can connect you with a great job.
One Application for Multiple Positions
When you're looking for work on your own, you have to apply to each job opportunity separately, one by one. You have to tailor your resume to fit the specific job opportunity that you're applying to. You have to spend countless hours searching for employment that fits what you are looking for. This is all very time consuming, and can be frustrating if you don't receive a call back from your applications.
Instead of applying to job opportunity after job opportunity on your own, apply to Liberty Staffing once and you will have access to a multitude of positions. Liberty Staffing has many opportunities available.
Listen to Your Needs
At Liberty Staffing, we take the time to get to know you on a personal level, and your needs in terms of employment. If you have children to pick up after school, we can find a job that fits your schedule. If you are looking for office work only, we can submit your resume to our clerical division. If you are looking for work in Brampton, Ontario only because you take public transportation, we will make sure to find you something suitable.
Just let us know what your requirements are when you come in to apply with us. We will take it from there.
Access to Hidden Networks
Liberty Staffing Services has jobs that are "hidden" from the public. This means that we usually do not post our job advertisements on public job sites because we already have a database full of candidates that are ready to work. Instead of searching for outside candidates, we recruit candidates who have applied with us. Also, when a candidate comes in to apply with us, often we can offer them a job on the spot, so there's no need to advertise for the position.
By applying with us, you'll have a leg-up on thousands of candidates who are applying to the same job opportunities on popular job sites.
Find Work Quickly
Best case scenario is that Liberty Staffing can find you work on the same day that you apply with us. Our goal is to find you suitable work as fast as possible. We always try our best to find employment for you as quickly as possible.
What's great about applying with us is that we do not have a binding contract, which means that you are free to search job opportunities through other agencies, as well as on job sites, while you are registered with us.
Apply with us today! Liberty Staffing connects great people with great jobs.