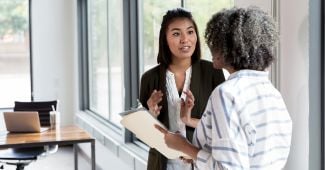 Summer is great for so many reasons. The weather is nice, there are more outdoor activities to do, lots of people take time off for vacations, and kids are out of school. What's not to love?
If you are responsible for staffing a company in the summer, you know that there are some big drawbacks to this season. While others are enjoying their summer holidays, you may be experiencing the stress of trying to keep your business fully staffed and operational.
A staffing agency can help you resolve those summertime staffing woes! At Liberty Staffing Services, we have been helping businesses in Southern Ontario stay on top of their staffing needs all year long, including during the challenging summer months.
Reach out to Liberty Staffing today to find out how we can help!
Why the Summer is Such a Staffing Challenge
Summer is a perfect storm of staffing challenges. First, it's a popular time to take a family vacation. Your employees' children are out of school, and vacation spots are calling. But if you are not intentional in your approval of vacation time during the summer, you could end up with a ghost town in the office or at your facility. On the other hand, if you are too strict about not letting people take time off when they want to, you run the risk of unhappy employees who will simply go elsewhere.
Next, many businesses depend on the labour of college/university students who go home for the summer. Losing these seasonal employees means you need to fill open positions every summer – and only for the summer, assuming you want to rehire those student workers when they come back in the fall.
Finally, people who are planning to go on the job market will often push their job search back until the fall so that they can take advantage of their earned vacation time at their current jobs. Many hiring managers find that there are simply fewer candidates available to interview and onboard during the summer.
A Staffing Agency Can Help
You don't have to keep trying to manage all of your staffing needs on your own.
When you outsource your staffing needs to a specialized and experienced staffing agency, you let us do the work of keeping your company running smoothly. That lets you focus on the rest of the work associated with running (and growing!) your business.
Let's take a look at some of the ways that a staffing agency can help you find great employees for summertime staffing.
We Know Where to Find High-Quality Candidates
One of the biggest differences between hiring your own employees and outsourcing the job to a staffing agency is this: they know where to find all the best candidates.
When you are doing it on your own, you end up having to research and learn about each potential job board, including the ones that are most relevant to your industry, and then create new listings for each one. You will probably need to invest in new software and constantly spend time learning about new staffing trends and recruitment.
It is definitely a challenge to find great candidates when it's not your full time job to do so. That's where we come in.
Staffing agencies know all the job boards, all the online resources, and all the places that people in your community go to find work. We efficiently post job listings and use automation to move candidates through the application process quickly.
We also have a database of job seekers who have worked with us previously. We can reach out to this excellent pool of candidates to find the best ones for your open positions.
We Know How to Plan for Seasonal Variations in the Workforce
Staffing is both an art and a science. You have to have a great combination of knowledge and intuition when it comes to keeping a business fully staffed.
A staffing agency with decades of experience is going to know how to manage the ebbs and flows of employment, including seasonal changes.
We know when you need to start looking for candidates before you find yourself in an understaffing crisis. Being able to anticipate staffing needs is just as important as being able to respond to them.
Staffing Agencies Can Connect You with Great Temporary Workers
Temporary workers are an incredibly important part of the Canadian economy! Even though most people in permanent positions don't spend much time thinking about temporary employment, we know that temp workers play an essential role in many of today's thriving companies.
Temporary workers are a great solution to so many staffing problems!
Do you need to scale up quickly? Temporary workers are ready to start immediately.

Do you need workers for a specific project or timeline, but not necessarily for permanent employment? You can hire temp workers for a specified period of time. That way, you don't have to fire anybody or let them go; the contract has a natural ending point.

Do you like to check to make sure that an employee is a good fit before you bring them on permanently? You can get to know your temporary team just like you get to know permanent employees. Then, offer permanent employment to the temporary workers that stand out.
Liberty Staffing is Here to Help Southern Ontario's Businesses Handle Summer Staffing Challenges
Are you worried about keeping your company fully staffed during the summer months? We're here to help!

Contact Liberty Staffing today to find out how we can use our meaningful community connections and extensive staffing knowledge to make sure that your company never has to struggle with summertime staffing again!