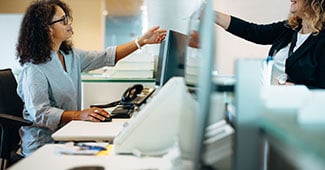 Building your resume can be a time-consuming and complicated task. One of the best ways to add meaningful and qualified experiences to your resume is to work as an administrative professional. Administrative work is an excellent resume-builder!
If you are looking for a new administrative position, Liberty Staffing can help you find the perfect one. Contact us today to find out what positions you are eligible for and how you can start a new admin job quickly.
Understanding the Scope of Administrative Work
Because administrative positions are often entry-level jobs, people sometimes have the mistaken impression that the work is easy or unimportant. Neither of those things is necessarily true.
Administrative work is essential to the day-to-day operations of a business, and the work takes a lot of knowledge, adaptability, and attention to detail. It is a job that can vary substantially from one industry to another and from one company to another. Administrative work is always changing and adapting to industry trends and updates.
Administrative work includes business management tasks like answering calls, filing paperwork and forms, meeting with stakeholders, communicating important information to internal and external parties, responding to consumer messages, managing schedules, assisting with budget-related tasks, and solving problems.
Administrative Professionals Develop Transferable Technology Skills
Administrative professionals need to be early adopters when it comes to workplace technologies. Because of this, when you work as an administrative professional, you quickly build technology skills that apply to countless other career paths.
You Will Develop Excellent Communication Skills
Soft skills are some of the most desirable skills in today's job market. That includes communication!
When you work as an administrative assistant, you communicate with people constantly through countless media. You will be emailing, responding to submitted forms, answering phones, making calls, facilitating meetings, and sending written communication.
When you sit down to update your resume after working in an administrative role, your communication skills section will look incredible! There are very few people within a business who communicate with as many people as a company's administrative professional.
Administrative Professionals are Incredibly Organized
Another soft skill that employers are looking for is organization. Administrative professionals have to be extremely organized. That means keeping track of multiple schedules, remembering deadlines, navigating complex technology systems, tracking down information, and ensuring that electronic and paper documents are sensibly organized.
When you put down "administrative professional" on your resume and back that up with organization as a skill, there is no doubt that you're telling the truth. You can highlight your organizational skills by outlining the wide range of tasks you were responsible for in your administrative position.
You're a Great Team Player
Because you communicate with so many different people in your administrative role, you are also building skills as a team player. Employers want to hire people who are good at working with others; administrative professionals must be collaborative and cooperative.
As an admin, you know how to work with people who are at the same level of employment as you–administrators in other departments, for example. But you also know how to communicate and work with supervisors as well.
Administrative professionals know how to communicate with stakeholders throughout the business: supervisors, coworkers, direct reports, customers, job seekers, and basically anyone who interacts with the business, no matter how frequent or infrequent that communication is.
Being a team player means that you can recognize what other people need and how to create solutions that meet everyone's needs.
Looking for Administrative Work?
Today's job-seekers recognize that administrative work is one of the best ways to build your resume! Even if you do not want to work in an administrative role for the entirety of your career, there are countless benefits to starting out there.
Ready to start a great administrative position? Contact Liberty Staffing today! We'll be happy to discuss the administrative positions that we currently have available!