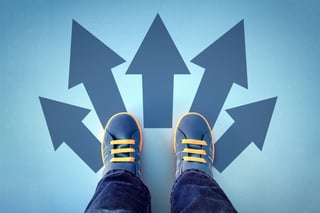 Are you a recent graduate, entering the workforce for the first time? You may have gone to school for one subject, but have realized that your true passion lies elsewhere. Or, are you returning to the workforce after maternity/paternity leave? Perhaps you've been contemplating changing careers. Maybe you're simply wanting to change careers to grow professionally. Whatever your situation may be, the main reason you're checking out this blog is because you're trying to find out what your ideal career is, and how you can obtain it. You've come to the right place.
Temporary work is your answer. There are lots of great benefits of taking on a temporary job. Not only will a temporary job help you out financially, but the variety of skills you learn are great to add to your portfolio. You can discover your ideal career through the different temporary jobs you take on.
Liberty Staffing Services offers temporary work in general labour, warehouse, industrial, and office industries. Here's how temporary work can help you identify your ideal career.
Try Out Different Positions
Depending on the assignment, temporary work could mean anything from a one day project, to a monthly or yearly contract. Temporary assignments allow you to try out different positions, without having to quit a job. Simply work until the assignment is complete, and then start a new temporary job. This way you will be able to try out a variety of different positions in a relatively short amount of time, which can help you discover what type of work you like and what you don't like.
Learn New Skills
The great thing about working temporary assignments is that you will obtain a lot of new skills, in a variety of different fields. This will be great experience for recent graduates, or those who need to brush up on their skills/training before starting a permanent career. You can put all of the new skills that you acquire on your resume.
Get Experience
Let's face it, if you're a student that has just recently graduated, you may not have all the experience that employers are looking for, especially for those with no co-op program. That's where temporary work comes in. Whether you take on a day-to-day assignment, or a month-long project, any work experience will help get your foot in the door to a permanent career.
Discover Your Likes and Dislikes
If you haven't decided what your ideal career looks like, temporary work can help. You can discover if you like doing physical work and being hands-on, or if you like keeping organized and sitting at a desk. Do you enjoy working as a team or individually? Do you enjoy working with numbers or languages? Do you work well under pressure or do you enjoy a more laid-back atmosphere? These are all important questions to ask yourself, and perfect to find out when you take on different temporary assignments.
Temporary Work Could Become Permanent
Don't let stigmas and common misconceptions surrounding temporary work and/or temporary staffing agencies fool you. Temporary work could become permanent. There are always permanent opportunities wherever you are working. Who knows, perhaps you will start a temporary position and find that you enjoy it. The employer can hire you on permanently.
Ready to take on a temporary assignment and discover your ideal career? Contact Liberty Staffing today!